Afghan Ambassador decorates 13 writers including journalists with Afghan Presidential awards at University of Peshawar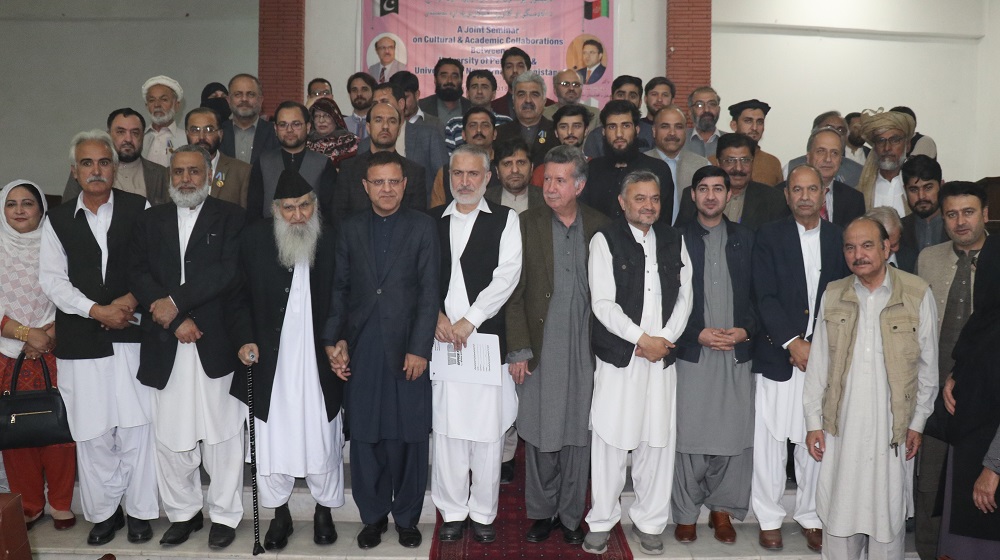 Peshawar: Pashtun literati and academics from Afghanistan and Pakistan are joint icons of people and one must compliment them for their exemplary work for promotion of understanding, peace and dialogue between the two countries. These views are expressed by Afghanistan ambassador to Pakistan Dr. Omer Zakhiwal in an award giving ceremony cum a joint seminar, at university of Peshawar organized under the auspices of University of Peshawars' Pashto Academy and Nangarhar University at Pashtun museum on Wednesday.
The ambassador said that both countries should lay to rest their suspicions, distances and jealousies. He admired Pashtun literati and journalists for building the narratives of peace and dialogue in a fragile and war –affected region despite huge socio-economic odds.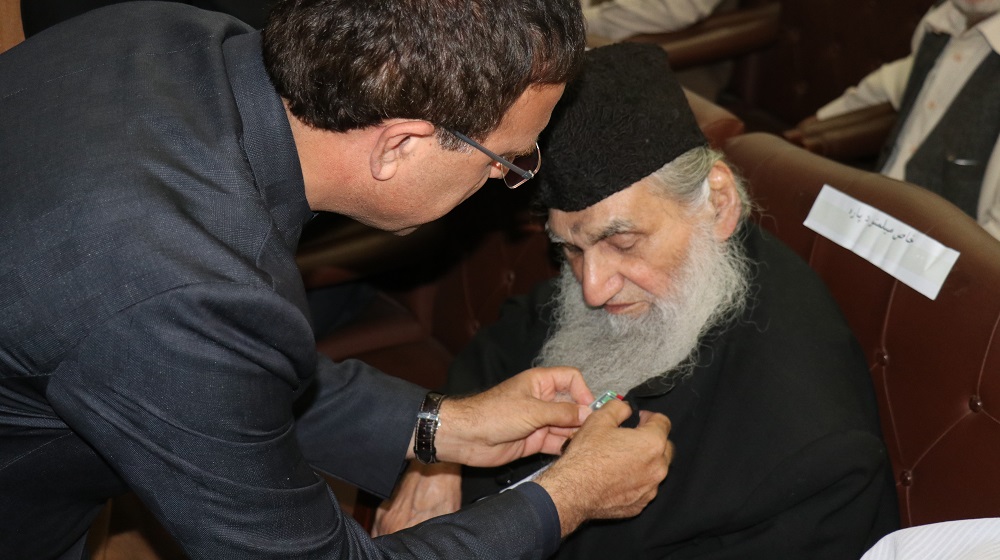 The thirteen personalities who have been decorated with gold medals named as 'Ghazi Mir Bacha khan' and self written pass from Afghan president Ashraf Ghani, included Hamesh khalil,Tahir Afridi, Professor Abaseen Yousafzai,Noor Ul Bashr Naveed, Darwesh Durrani,Said Kher Muhmmad Arif,Shamim shahid,Syed sufaid Shah Hamdard,Haroon Bacha, Alamzeb Khan ,Arbab Mujeeb ur Rahamn Khalil,Syeda Hasina Gul, and Dr.Salma Shaheen.
Afghan ambassador decorated the revered elderly Journalist Sufaid Shah Hamdard himself by condescending from the stage.
Afghan Presidential Advisor Lal Bacha Azmun, read the Afghan president message to the audience extolling literati for their valuable services to the common masses through their writings.
Earlier speaking at the ceremony, Senator Afrasayab khattak congratulated University of Peshawar for holding such a dialogue and ceremony. He stressed that University of Peshawar since its inception is delivering goods as an institution serving the entire region including Pakistan and Afghanistan.
Pro -vice chancellor University of Peshawar Prof. Dr. Muhammad Abid in his speech congratulated the awardees of the presidential medals and hope that such cross cutting gestures will greatly boost the ties between two countries .He anticipated that after Memorandum of Understanding between the two universities , Afghan universities will greatly help Pashtun academics to have rich linguistics experiences from afghan fellows since Pakistani Pashtuns are rich in experience with prose and poetry but not with linguistics. He added that artificial intelligence is another area where rich Pashtun literature can be documented in electronic form to help both countries literature .
Earlier speaking, Dean Faculties Prof. Meraj Ul Islam Zia expressed his joy over the collaboration that academics and scholars will visit one another to teach at the respective universities. He said that joint Mphils and PhD programs will greatly boost one another academic qualifications .One other area, that will be complimented through this cooperation will be sharing of books to each other libraries and culture exchange programs , he added.