Vice Chancellor -
Prof. Dr. Muhammad Asif Khan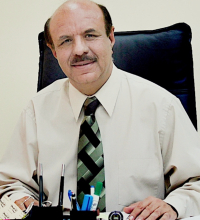 ---
Welcome Note for the Academic Year 2019-2020 | Friday, October 4, 2019
---
Dear Students! Let me welcome you all at the Fall semester of academic session 2019-20. I assure you the fullest cooperation and enabling curricular and co-curricular environment from the administration, faculty and myself. University of Peshawar as a mother institution of Khyber Pakhtunkhwa and flagship educational institution of the country awaits yours sense of proportion and maximum dedication.
Since, August 2017, taking charge as the Vice Chancellor, I have left no stone unturned to make my every decision student centric. First time in the University's history, we have dedicated male hostels blocks A, B, C & D to reserve for our BS students only. I assure you the best lodging and boarding facilities at our hostels facilities despite the financial difficulties. Hostels are renovated and being made free of nuisance from any outside factors. Study rooms and accompanying facilities will help you feel better and relax.
I must underpinned here the importance of Student Societies membership, every year in the month of September and October, we entertain applications for membership of our fourteen student societies and I hope you people will not lag behind yours fellow students for making thrust in to this unique bunch of active students. Our new four offices established for supporting yours ambitions, career and capacity building are there to nurture yours needs and support .I will advise you to share yours success stories with Communication Office, feel free to get advice and support from Career Development Centre and yours philanthropic and networking abilities for Fund Raising office. Hopefully, Campus Management Solution Office by the end of this year will append yours existing information will make online for yours good, teaching and administration advantage. Dear students, I would like to see yours achievements and participation in the website and departmental pages. It's heartening to see yours contribution for the university overall image and be the ambassadors of this great alma-mater.
I am here to welcome the first ever maiden students in the BS Fall semester in the discipline of History, Journalism & Mass Communication, History and Social Anthropology. I think you people as on the first stretch of this ladder and make it count for yours self, patents and society.
We have tried our level best to schedule yours upcoming classes, on the different academic zones and areas. This basic approach is to make room for you to adjust in different disciplines, move around to take ownership of the university and assimilating resources and diversity at yours fore. I will advise you to be in constant communication with Directorate of undergraduate Studies for any relevant queries regarding BS semester system.
An important thing for you is to reach out to yours teachers, coordinators and departmental heads in case of any query, complaint and demand but never believe in the hearsay. There is no rooms for rumours and the administration believe in the rule of law for all.
Dear students ! You must and should fully concentrate on yours studies as it's a foremost duty to yours parents, yours self and to the society.
Wish you a successful academic year and stay at our's University.
---
Archives:
---