Vice Chancellor -
Prof. Dr. Muhammad Asif Khan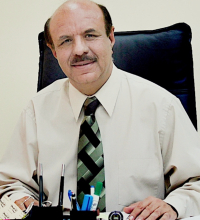 ---
Vice Chancellor's Message about Covid-19 Outbreak | Friday, April 10, 2020
---
Dear students,
Hope you are taking care and staying safe.
As you all very well know, the world is passing through a severe crisis because of the coronavirus pandemic and Pakistan is no exception. The University of Peshawar realized the severity of the issue and timely announced the closure of the university and its hostels on March 14, 2020. This enabled our students to timely return back to their homes, before the lockdown and consequent ban on intercity public transport.
Through this message, I want to get in touch with you about three important issues; Safety, Social Responsibility, and Learning.
Safety. As the students of one of the leading universities in the country, we must ensure not only our safety but also that of our parents, siblings and those close to us. I expect that you are strictly observing all the precautionary measures including personal hygiene and social distancing. Not only that, but you are also expected to actively play your role in effective implementation of the same in your community.
The message is simple; the virus cannot survive on its own, it needs a human body to carry it onward and spread. If we can avoid providing this free ride, the evil will die its death.
Social Work. In these testing times, people have lost their earnings, especially those in small businesses and/or on contracts/daily wages. Several government schemes need registering, where students can help those needing assistance. An important service can be rendered if contact details of families in genuine need are collected. If such data are shared with the Community Service Directorate, University of Peshawar (http://www.uop.edu.pk/csp/), resources can be generated, and such people can be helped.
Learning in lockdown. Unfortunately, crises disrupted our ongoing academic year/semester. But there is a saying "something good comes out of every crisis". It is up to us now, how we convert crises into an opportunity for learning.
You must have heard about Online Teaching being offered by some universities to make up for the Spring Semester 2020. Knowing that a majority of students may not be ready for this sudden switch to online teaching due to various limitations including internet connectivity, the University of Peshawar is taking a cautious approach to this switch.
Most of our students have already completed the Google.Doc survey about contact details and the status of internet connectivity. So far over 70% of students favor online delivery. However, we shall keep in mind concerns and limitations, who have indicated their inability. Those who have not yet taken the survey, kindly take five minutes to give your input at Google Survey Form.
Meantime your teachers are already uploading their Teaching Material related to their courses on the departmental websites (for example see Department of Computer Science).
Those departments where "online content" is not yet uploaded, you may contact your HoD/teacher through SMS/emails to do so at the earliest. Please use these materials for keeping engaged with your courses and if required, keep in touch with your teachers through email/WhatsApp/SMS, etc. for any further guidance.
The COVID 19 has also opened up a window of opportunity for learners. Publishers, libraries, universities, and organizations, having digital repositories are sharing their learning resources for free. These include online courses, languages, e-books, software systems, etc. The University of Peshawar is compiling such resources and posting these links on the University website http://www.uop.edu.pk/covid19/. UoP students are encouraged to register themselves for such resources, and where possible earn Certificates.
Finally, in these hard times, I assure you that the University of Peshawar stands with you in thick and thin. In case you face any hardship because of the coronavirus or any concern about any service delivery from the University, please do not hesitate to contact relevant section heads through email/SMS/WhatsApp, etc with a copy to me at vice_chancellor@uop.edu.pk.
Note: Please keep an eye on the COVID 19 link at the University of Peshawar website for updates. http://www.uop.edu.pk/covid19/
---
Archives:
---