Vice Chancellor -
Prof. Dr. Muhammad Rasul Jan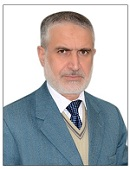 University of Peshawar is one of the most established institutions in the country.  It offers immense opportunities and faces daunting challenges. While we are aware of the paramount importance of education for the people of Khyber Pakhtunkhwa, we are also cognizant of the needs and requirements of the local and global environments and markets.  We try our best to address our social, academic, cultural, and economic problems in a befitting manner.
Our teaching faculty and researchers pride themselves in excellence in teaching and high standards in research.  They have been doing that very well since the establishment of the University of Peshawar some six decades ago.  We are proud of them. We are confident that they will earn more laurels for our beloved university in challenging circumstances.  We would love to provide to our teaching faculty and staff the very best that is there; our economic constraints sometimes frustrate our goals.  We believe that our teaching faculty; our staff; and our students have the talent and the potential to play the role that they can to change our community; our society; and our economy.  We can!
Modern times make different demands of universities.  Higher education is not about sharing of knowledge anymore; it is about creation of knowledge and its application to the people and community around us.  The application of our knowledge should aim at creation of jobs rather than seeking them.  We have to focus on moving from being a consumer society to a producing society.  We have to reach out to the community around us and think of ways to interact with them professionally. We also have to be aware of how to not isolate ourselves from the international community. We cannot perform effectively without collaboration with our professional and academic counterparts.  Let us strengthen universities to build better communities.
Prof. Dr. Muhammad Rasul Jan
Vice Chancellor