Victims of 8th October, 2005 Remembered
Keeping in view the tragic earthquake disaster of October 8th, 2005, the Centre for Disaster Preparedness and Management (CDPM), University of Peshawar and Provincial Disaster Management Authority (PDMA)-Khyber Pakhtunkhwa organized a commemoration ceremony to observe the National Disaster Awareness Day-2016 at PUTA, Hall University of Peshawar on October 06, 2016.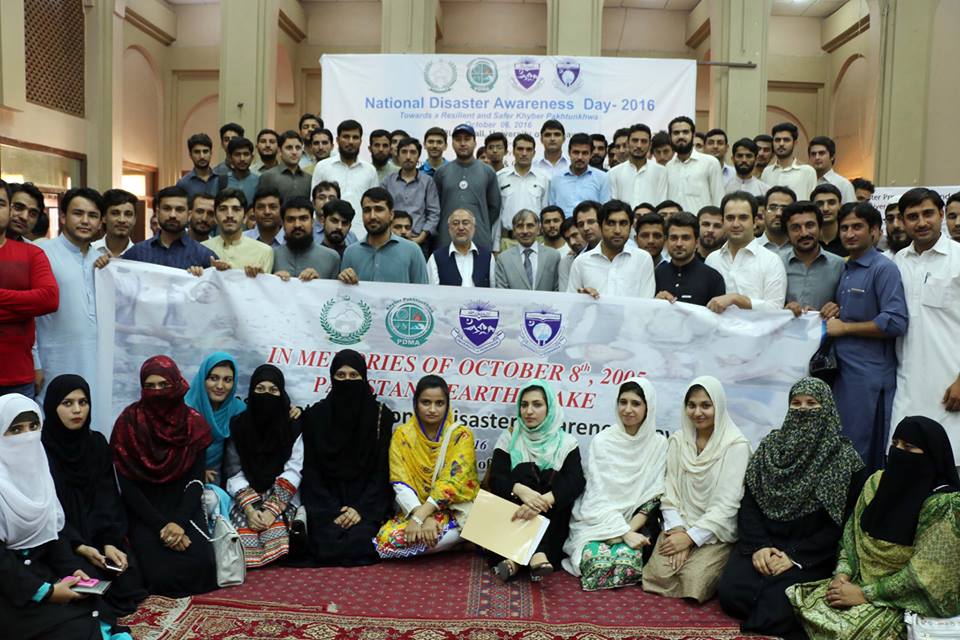 The event was supported by Malteser International, Care International, ACF International and IDEA-Pakistan. In the backdrop of the October 08, 2005 earthquake, measuring 7.6 on the Richter scale, the government of Pakistan has declared 8th October as National Disaster Awareness Day. The basic aim of the commemoration was to sensitize the community to learn from disasters and play its role as socially responsible citizens. Each year the day is celebrated to express solidarity with the bereaved families who lost their family members and to arouse the spirit of individual and group enrichment to face the challenges in the post disaster scenario. The event was attended by more than 350 participants from all walk of life including representatives of PDMA, Government Departments, United Nations, INGOs, Civil Society Organizations, Community Members, Teachers and Students of the University of Peshawar and other Universities.
The Vice Chancellor, University of Peshawar Prof. Dr. Muhammad Rasul Jan; Dean Faculty of Life and Environmental Sciences, University of Peshawar Prof. Dr. Amir Nawaz Khan and Mr. Muhammad Khalid, Director Administration PDMA-Khyber Pakhtunkhwa were guest speakers at the occasion. The faculty members of the CDPM and students hosted the commemoration ceremony.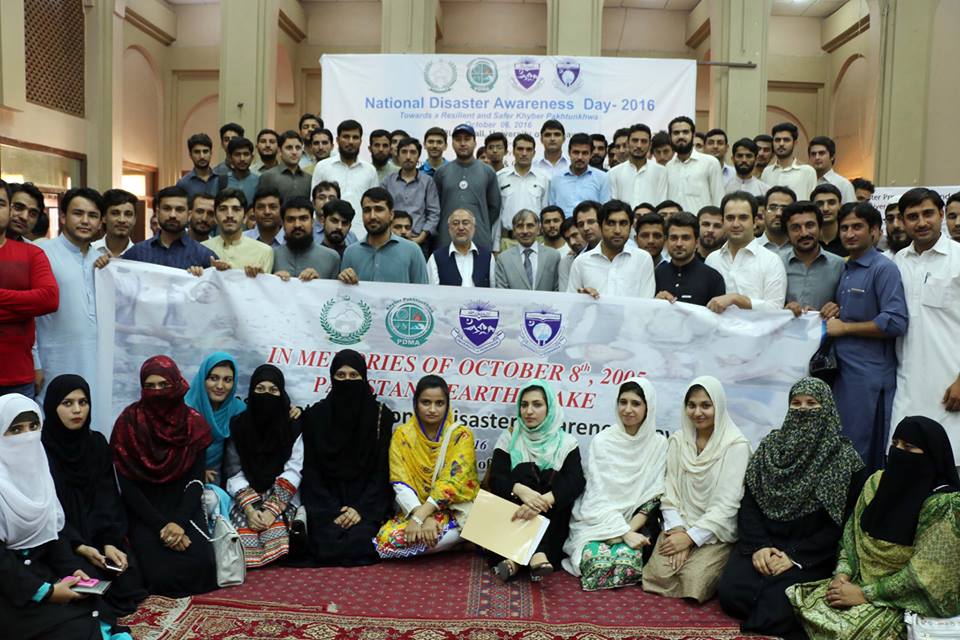 The event was formally started with the recitation of Holy Quran. Addressing the audience Muhammad Khalid said that the tragic disaster of October 08 has taken so many precious lives and had huge effects on physical infrastructure and economy of the country. This disaster transformed the paradigm from reactive to proactive approach all over the country. Disaster Risk Reduction (DRR) is now a national and local priority and its essential ingredient is an effective early warning system. Preparation to give timely response to future disaster event is the need of the day. Climate change induced disasters like flash floods, reverine floods, mini-cyclones and Glacial Lake Outburst Floods is having potential impacts on different parts of Khyber Pakhtunkhwa. The government organizations, humanitarian agencies and local community need to be aware to cope with the impacts of these disasters. Students can play an effective role in transforming at risk communities to disaster resilient communities by utilizing their technical knowledge in the field and raising public awareness through various events. He welcomed the students to submit entrepreneurial projects on DRR, research practicum proposals and project proposals on DRR related issues to PDMA-KP. Dr. Amir Nawaz Khan shared his views with the participants of the seminar on Needs of the hour in the context of DRR. He said that Physical isolation, scattered settlement patterns, harsh climatic conditions, Poor quality of construction of housing, buildings and infrastructure, fragile natural environment, population growth and size, Rapid Urbanization, industrialization and environmental degradation, climate change and variability and Gender power imbalances are the main causes of Pakistan's vulnerability to disasters in general and Khyber Pakhtunkhwa and FATA in particular. He further said that pitfalls in the implementation of National Disaster Risk Reduction (DRR) Policies, lack of understanding and knowledge of risk factors and risk reduction strategies, lack institutionalized identification and assessment of geographical locations vulnerable to disasters, low level of capacities and awareness at decision making level and lack of accountability has further enhanced the vulnerability of the country. He suggested that focused research on DRR, Integration of DRR into development planning, strengthening forecasting and early warning system, adequate disaster reduction strategies, capacity building for coping with post-disaster situation, enhanced communications, infrastructure and critical facilities, political will and trained man-power are the need of the day to properly address the vulnerabilities of poor and marginalized population.
In his address the Vice Chancellor, University of Peshawar Prof. Dr. Muhammad Rasul Jan said that Pakistan is not a poor country, it has sufficient resources and the need is to bring them into mainstream society. Government may have financial resources but it lacks adequate human resources to properly channelize it into disaster risk reduction and community development. The CDPM can fulfill this gape in the field of DRR by producing exceptionally standard and qualified human resource in the field of DRR. "This centre was established with the vision to equip human beings with the knowledge and skills to minimize the damages and miseries of disasters and CDPM is functioning in a right direction in achieving its goals". The University of Peshawar is not only producing qualified human resources for dealing with natural disasters but it has established Institute of Peace and Conflict Studies to focus on manmade disasters as well. He also announced the very soon the University will advertize admissions in Criminology and Forensic Studies. He was of the view that everybody is responsible to take care of themselves and the country. "I believe everybody is an asset to the country and they can make difference to serve the nation". Dr. Rasul Jan said every one of us is talking about the great philanthropist of the country (Adbul Satar Edhi) but no one is following his footprints to volunteer them for the nobel cause of humanity. He further added that on my recommendation the CDPM has established a volunteer club and they are contributing a lot in awareness of the common masses and helping the needy and the poor. There are practical evidences that students of the CDPM are actively participating in safety measures, and also work with teachers and other adults in the community towards minimizing risk before, during and after disaster. He appreciated the efforts of the CDPM students and faculty members for being prominent on campus in the organization of workshops, seminars, exhibition and awareness events. He said University of Peshawar is open to get into partnership with organizations working for humanity. Higher Education Institutes addresses key thematic aspects of local and global sustainable development challenges and empowers learners to think critically and in an interdisciplinary manner understand risks and complexity; collaborate in decision-making and show solidarity, which are the skills that are essential for building a culture of resilience. Dr. Rasul Jan extended his gratitude to PDMA and other collaborating organizations.
The event was adjourn with vote of thanks by Mr. Mushtaq Ahmad Jan, Director CDPM to all speakers and participants. Instead of October 8th the event was held on October 6th due to other activities for the same cause of public awareness of all partners organizations.