2018(19) Session Events
Road Safety Seminar 2019
Seminar on Road Safety and the Built Environment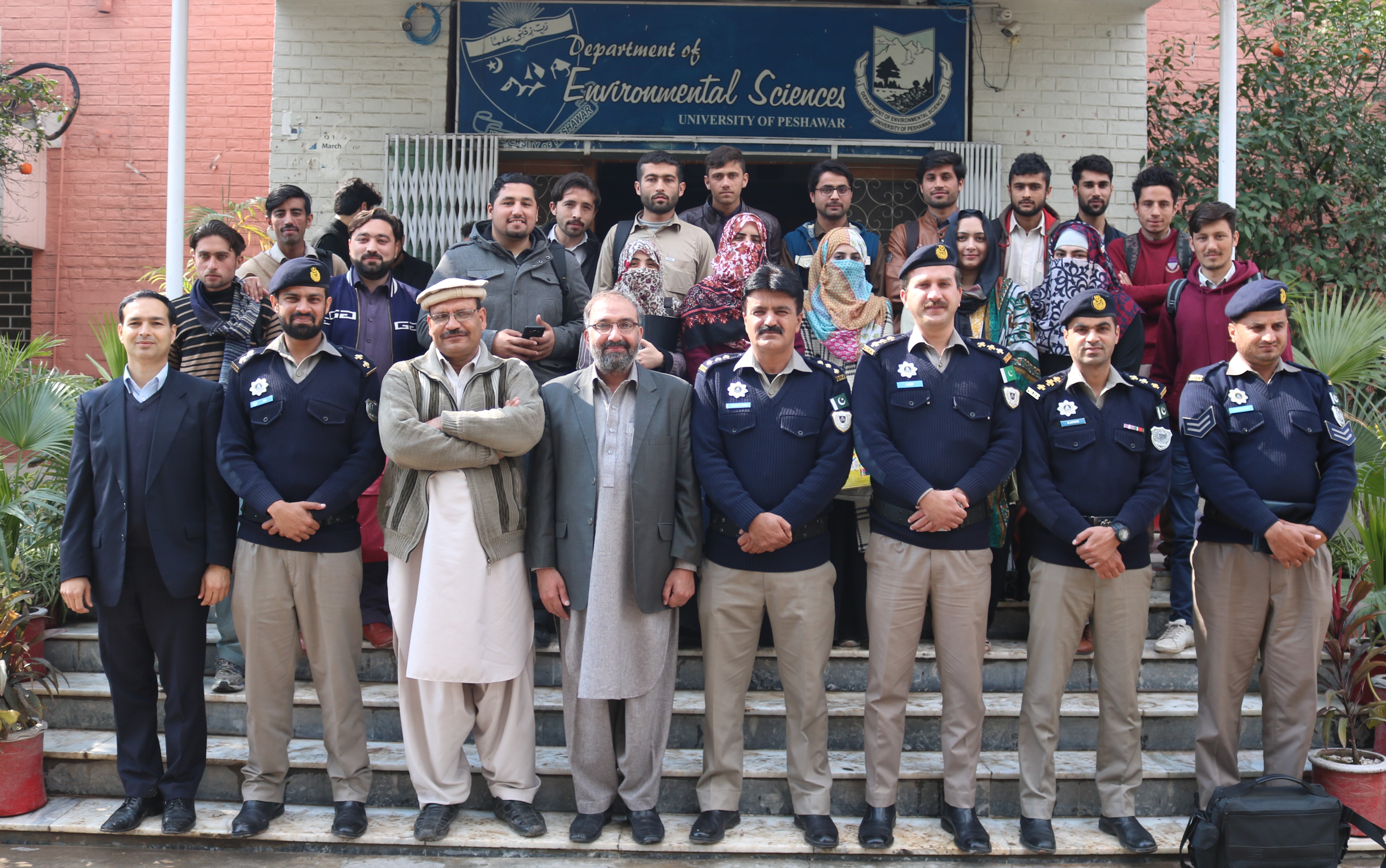 Introduction
A Seminar on Road Safety and the Built Environment was organised by the Environment Society in collaboration with National Highways & Motorway Police (NH&MP) at the Seminar Hall of the Department of Environmental Sciences. The Seminar took place on 28 February 2019 from 11:45 am to 01:45 pm and was attended by more than 70 participants that included delegates from NH&MP, cabinet members of EnvSoc, faculty members of the Department of Environmental Sciences and students of UoP. The seminar formally started with the recitation of verses from the Holy Quran by Muhammed Suleman.
Welcome address of Dr Asif Khan Khattak
Dr Asif Khan Khattak, Organiser of EnvSoc, gave a welcome address to all the participants of the event. He formally opened the seminar and welcomed the guests. In his presentation, he briefly described about the built environment, traffic, its laws and their implementations, and various uses of roads. He shared his personal experiences, from different parts of the world, related to road safety.
Presentation by Mr Asif Mehmood Khattak (NH&MP)
The objectives of his presentation included to ensure safety, to help the road user, to regulate traffic and to enforce the law. He shared the public's views about road safety and shared some facts and figures regarding current situation of road accidents in Pakistan. Every year worldwide approximately 1.2 million road accidents happen in various areas and approximately 20-50 million injuries occur every year. In 2017, 27,081 deaths have been reported. An informative discussion took place with the students about rules & regulations, sign boards, pedestrians' safety, motorcyclists' safety, right-of-way, prohibition of overtaking, time management and focus on road, avoiding over-speeding, vehicle lights and their use, three-second rule, vehicle conditions, weather impacts on roads, etc. The participants were informed with motorway helpline 130, the motorway police contact email for sharing queries and complaints on digmotorway@gmail.com and the official App named as Motorway Humsafar. The presentation was followed by an interactive Question and Answer Session.
Address by DSP Younas Khan
The Deputy Superintendent of Police, Mr. Younas Khan, discussed in detail about the implementation of the rules and explained how the authorities avoid and deal with the road accidents and its consequences particularly on motorways. This was also followed by a Question and Answer Session.
Video Clip Presentation
The Organiser, Dr Asif Khan Khattak, showed an awareness video clip about a fatal road accident that happened on the Motorway in the United Kingdom in 2016. This was followed by his comprehensive closing remarks and formal thanks to all the participants and especially to the delegates of NH&MP.
At the end, the guests, organisers, and participants enjoyed informal discussions and mutual introductions over the refreshments.