UoP Establishes Volunteer Society for Relief Work in Disasters
The University of Peshawar has established a volunteer society for effective management of the natural and manmade disasters. The society would comprise of students of the Centre for Disaster Preparedness and Management and other departments of UoP. They will work together with other lien agencies at the time of Disasters (GOD forbid). This was announced by Vice Chancellor UoP Prof. Dr. Muhammad Rasul Jan while addressing a seminar arranged on the occasion of World Disaster Risk Reduction Day at the University of Peshawar.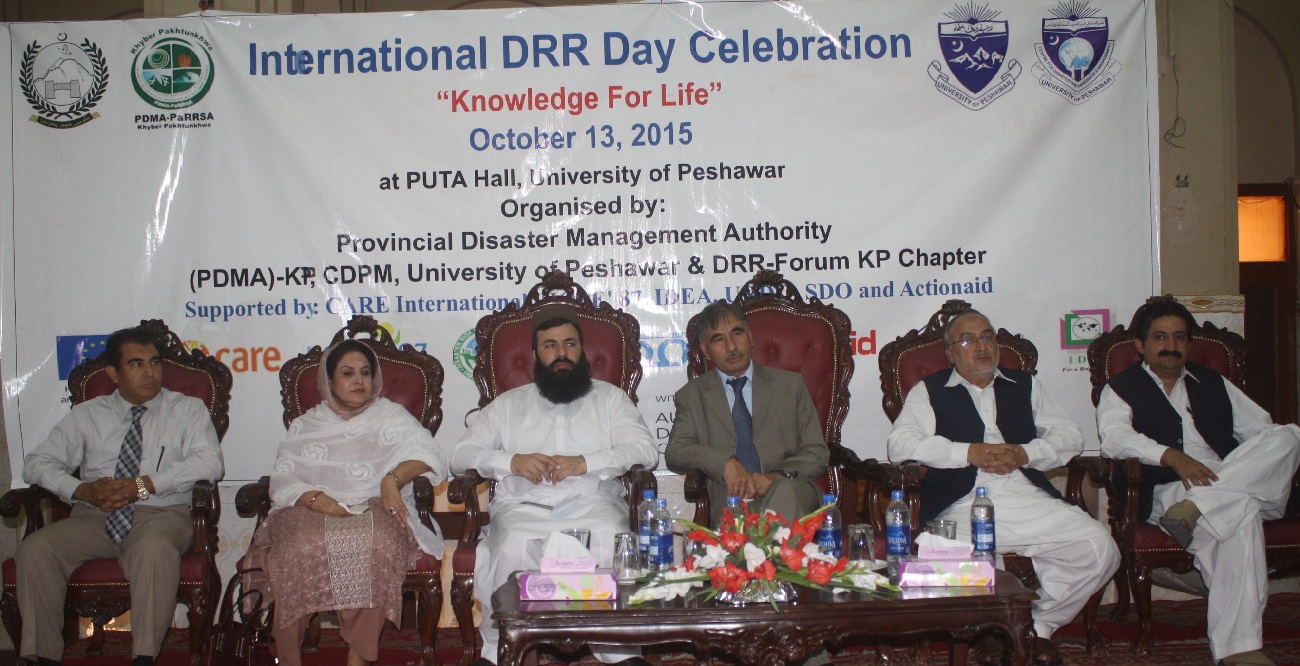 The seminar was arranged by the Centre for Disaster Preparedness and Management, University of Peshawar in collaboration with Provincial Disaster Management Authority.
The Vice Chancellor congratulated the CDPM and PDMA team for organizing such a large scale event for public awareness and disaster risk communication. He was of the view that holding such type of mass awareness activities reflects the enthusiasm and the spirit of the CDPM and PDMA for promoting the cause of disaster risk reduction in Pakistan. He further stressed that this is the right time for academia and leadership of Pakistan to demonstrate devotions, commitment and exploit their scientific knowledge, experiences and indigenous local knowledge for disaster risk reduction.
The Dean Faculty of Life and Environmental Sciences Prof. Dr. Amir Nawaz Khan put forward recommendations for disaster resilient Pakistan. He highlighted the gapes and challenges in disaster risk reduction in Pakistan. The District Nazim Peshawar appreciated the efforts of the University of Peshawar and PDMA for jointly working on reducing the risk of disasters in Pakistan. Ms. Nargis Bibi parliamentary secretary relief, settlement and reconstruction department assured that the provincial government will support all type of activities for disaster risk reduction in Khyber Pakhtunkhwa.
Dr. Azmat Ullah assistant Director PDMA welcomed all the participants to one day festivity at the University of Peshawar. Addressing the audience Director, CDPM, told that the focus of the 2015 edition is on traditional, indigenous and local knowledge, which complement modern science and boost the resilience of individuals and societies. He stressed that knowledge of early warning signals in nature can be vital to ensure early action is taken in order to mitigate the impacts of both slow and rapid onset disasters such as floods, droughts, heat waves and storms. Combined with scientific knowledge such as reports generated by meteorologists, local knowledge is vital for preparedness and can be passed on from generation to generation.