Successful Ph.D. defense of a research scholar at UoP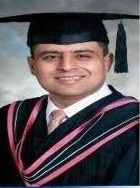 Mr. Asad Khan, serving as Assistant Professor in the University of Peshawar has been awarded PhD degree in the field of information management.
The topic of his research was "An empirical investigation of effects of competencies on job satisfaction and organizational commitment of information professionals- A Pakistani perspective".
He also received MS degree in Information Studies from the University of Toronto Canada. For his research studies he received four international full-funded scholarships and thirteen travel grants from the Ministry of Education, Government of Canada. He published nine research papers in international conference in USA, Canada, Pakistan, Thailand, Malaysia and Turkey. He produced a competency-based management system for workers' performance evaluation to enhance organizational productivity.
His research findings established that competent, satisfied and committed workforce strive to achieve organizational goals, perform optimally and produce successful productivity within the existing resources.