BS Block and Assessment & Counseling Centre Inaugurated at the Department of Psychology, University of Peshawar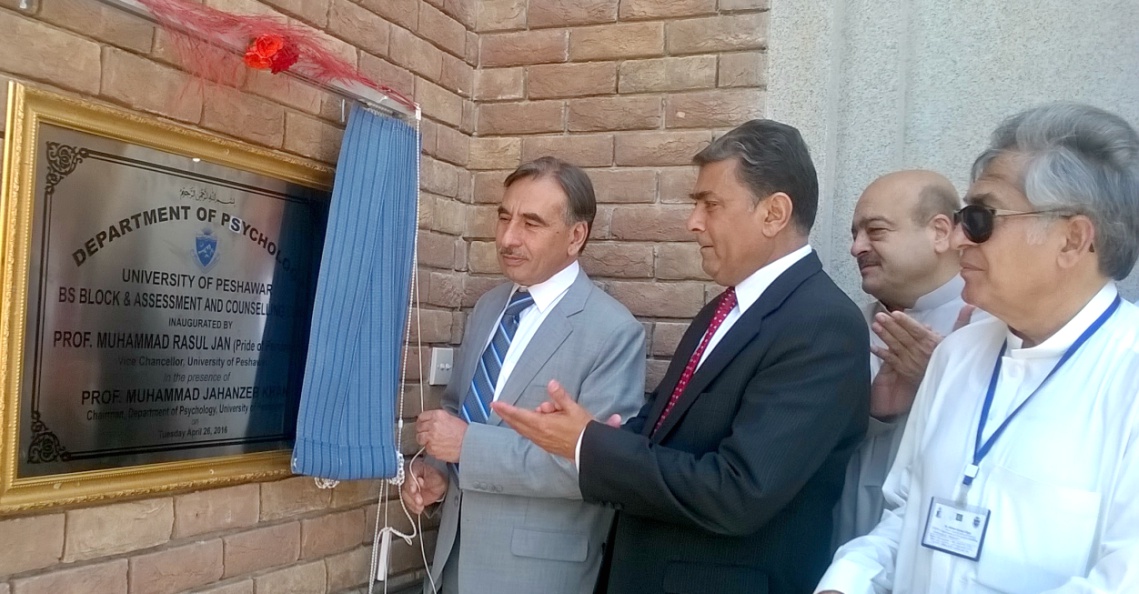 The University of Peshawar is all set to launch the first ever forensic psychology classes in Pakistan. The professional courses offered in the program would enable the legal fraternity to understand fundamental legal principles with regard to expert witness and other areas of courts proceedings. This was revealed by Chairman Department of Psychology Prof. Dr. Muhammad Jehanzeb at the inaugural ceremony of the new BS Psychology block at the University of Peshawar.
The BS Block and Assessment, Counseling Centre has been constructed at a cost of 42 million rupees in a short span of one year for which funds has been provided by the Higher Education Commission of Pakistan. The double story building consists of four class rooms, two laboratories and ten counselling chambers.
Vice Chancellor UoP Prof. Dr. Muhammad Rasul Jan inaugurated the Block in a ceremony. He was accompanied by Dean Faculties and teaching staff of the Department of Psychology.
Addressing the ceremony the Vice Chancellor said that Department of Psychology since its inception in 1942 has been producing excellent professionals of the field, and that is why its graduates has outnumbered other relevant departments in the civil and military services of the country. He added that in the prevailing situation the role of a psychologist has become more imminent as the traumatized people of the country needs counselling in order to avoid psychological disorders.
Dr. Jan appreciated the efforts of the Department of Psychology for launching professional programs like counselling and assessment centers, clinical psychology and more importantly a trauma centre for the Journalists working in the field. He said that the counselling chambers shall be made open to public for psychological treatment and people of the terrorist hit areas shall be treated on priority.
Earlier the Chairman Department of Psychology Prof. Dr. Muhammad Jehanzeb said that up till now the department has produced more than fifty PhD while the number of M. Phil are more the double of this number.