Students Showcase Creative Art in Textile And Fashion Designing Exhibition at the College of Home Economics, University Of Peshawar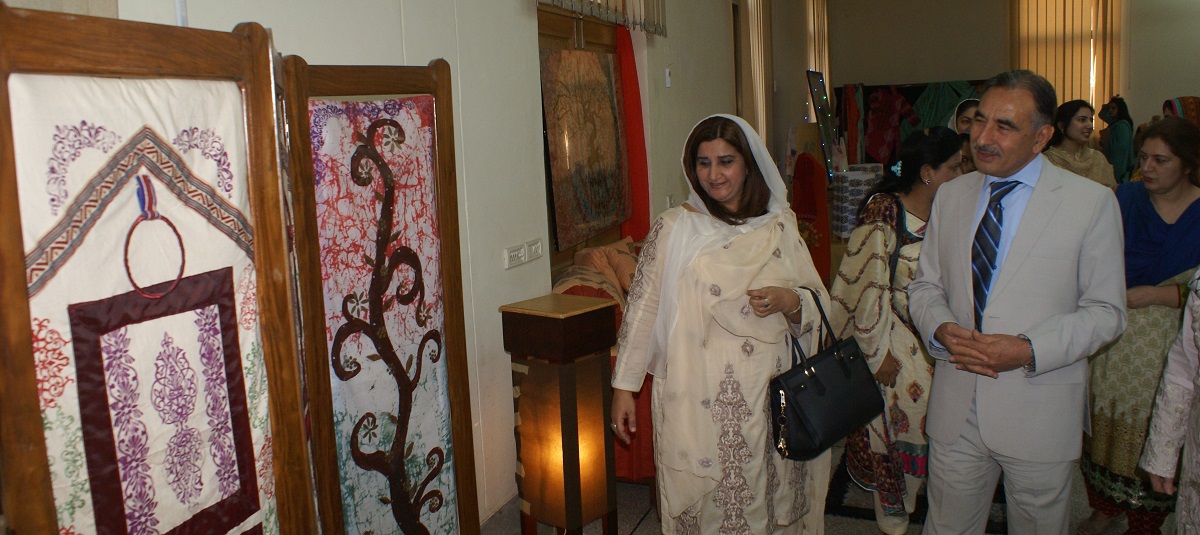 Students of the College of Home Economics University of Peshawar showcased expression of their creative skills and imagination in the one textile and fashion designing exhibition. The exhibition being part of the student's academic endeavor was a true reflection of their strategic value adding activity which can make an economically viable and profitable preposition.
The students worked on themes like block painting, batik printing, screen printing, dresses designing draping, fabric swatches and rugs made with different techniques.
Vice Chancellor UoP Prof. Dr. Muhammad Rasul Jan was the chief guest of the day. He was accompanied by Principal College of Home Economics Prof. Dr. Syeda Kaneez Fatima and organizer of the event Ms. Faryal Yousaf. The chief guest visited various stalls and appreciated the creative art work of the students. Addressing students he said that every good work needs to be shared and calibrated, and the college has provided a good platform to students to unearth their skills.
Dr. Jan sated that the University of Peshawar was looking for bridging the academia industry gap and bring the people who runs the market to the University for Benefit of both. He added that a display center for the creative work of the students would soon be established so that their work is showcased for industrialists and entrepreneurs.
The Principal College of Home Economics said that there college was committed to transform talented and dedicated students into multidimensional professionals equipped with the skills in order to succeed in a world that continues to change and challenge.