University of Peshawar won the Inter Colleges Tournament (2016-17)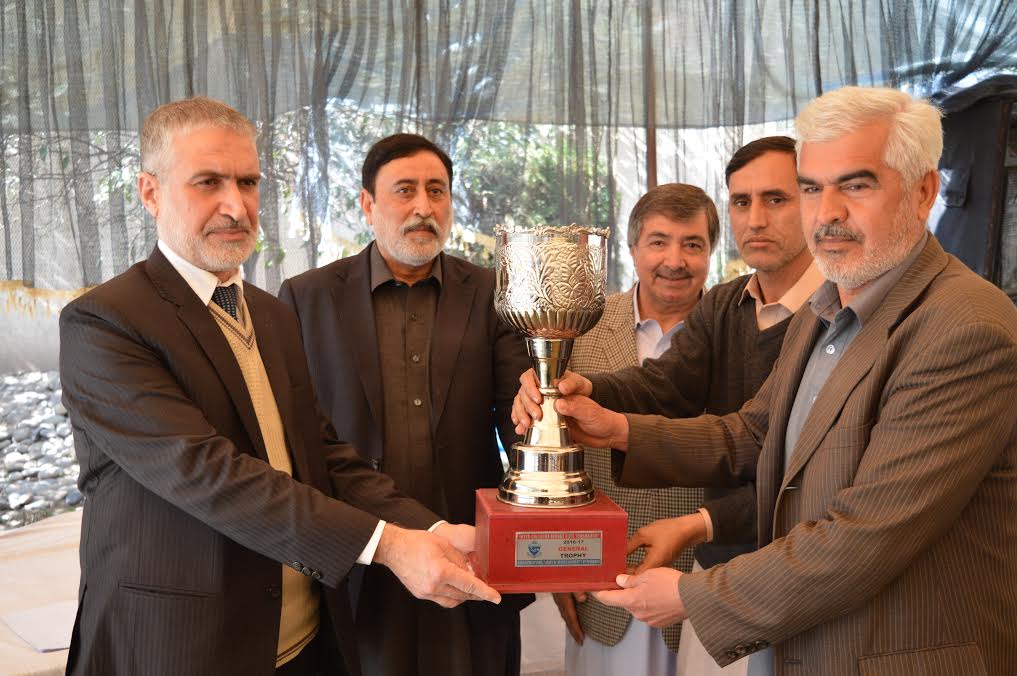 Vice Chancellor, University of Peshawar Prof. Dr. Muhammad Abid while underlining the importance of sports has said that it provides a spirit of purposeful competition to the participants that leads to conducive environment. Healthy minds reside in healthy bodies and for that matter our youth ought to engage themselves in sports and other co curricular activities which will certainly add value to their persona, he added. This he said while addressing as a chief guest of the prize distribution ceremony of Annual Inter Colleges (Boys) Tournament (2016-17), held at the Directorate of Sports, UoP here Tuesday.
He reiterated that the varsity will extend its utmost support to the directorate of sports for further accelerating the pace of such healthy competitions, which will surely bring laurels and glory to this great alma mater. He urged upon the prize winner players of different games to get them involved in sports as it will help them in defeating bad habits, resultantly becoming excellent populace of the society.
It is worth mentioning here that University of Peshawar, besides winning first prizes in Badminton, Basket Ball, Cricket, Football, Handball, Hockey, Squash, Table Tennis and Volley Ball has won the General Trophy of the tournament by securing 74 points. Mr. Paras Jhon of Government College Peshawar and Mr. Hilal Ahmad of Government College Hayatabad, were declared best athletes by securing 36 points each. Govt. College Peshawar won the first prizes in Tennis and Athletics, Govt. Superior Science College Peshawar won Kabaddi and Govt. College of Commerce & Management Sciences Charsadaa declared winner of Tug of War.
Former Squash World Champion Qamar Zaman , Vice President Sports Committee Dr. Fazl e Subhani and Director Sports University of Peshawar Bahr e Karam Khan also spoke on the occasion. They informed the gathering that the Four Glass Wall Squash Complex of the UoP will be made functional in the near future, which will be the only of its nature in the world to have such infrastructure and facilities. This will help in grooming squash players, who will serve the country in a befitting manner, they hoped and added.
Bakht Zaman Yousafzay
Media Officer