University of Peshawar and Riphah International University singed MoU for academic collaboration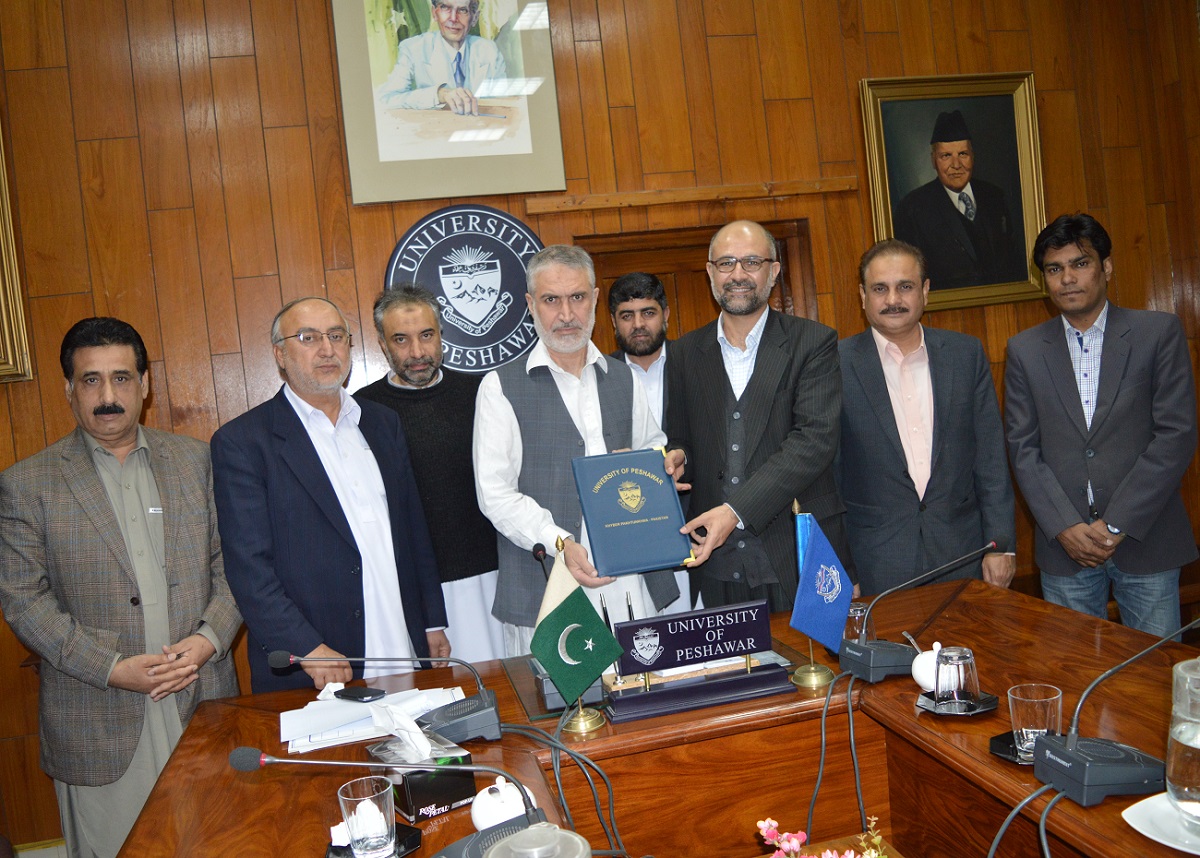 University of Peshawar and Riphah International University, Islamabad have signed a Memorandum of Understanding (MoU), in order to strengthen academic linkages and collaboration between the two universities, in the areas of mutual concerns and benefit; to facilitate the exchange of research scholars and faculty members for teaching and research. Under the MoU, the Riphah International University will provide financial support to a specific number of deserving students nominated by University of Peshawar in the form of teaching and research scholarships or other stipends as may be available and appropriate. The MoU was signed by Prof Dr. Muhammad Abid, Vice Chancellor University of Peshawar and Prof Dr. Muhammad Anis, Vice Chancellor, Riphah International University Islamabad, here Wednesday. Director Planning and Development Dr. Zahid Gul, Registrar UoP Dr. Zulfiqar Ali and former Dean Faculty of Life an Environmental Sciences, UoP Dr. Amir Nawaz Khan were also present on the occasion.
According the MoU, the two universities shall facilitate the exchange of students for the purpose of attending courses, participating in professional training or attending elective training courses during the summer. The collaboration in research will promote the advancement of science, technology and human learning through the understanding of cooperative research on topics of mutual interest and expertise; and to stimulate contacts between researchers in the two universities and the formation of research linkages and groups, with particular reference to the work of graduate students in both institutions, the MoU affirmed.
The MoU, further states that the two universities will exchange experience in designing new programmes and identifying faculty members for short-term or long-term teaching assignments. It further states that before any particular cooperative project or programme is initiated, all financial details and required logistic support shall be negotiated and agreed upon by the two institutions, with each partner acting within the scope of the resources specifically allocated to this effect by administrative authorities. The MoU shall come into force for a period of five years upon the signature of both sides, and shall be renewed with their mutual consent and signatures, and can be amended by written agreement of both the parties, if needed.
Bakht Zaman Yousafzay
Media Officer