University of Peshawar and Eduvision Islamabad singed MoU for academic collaboration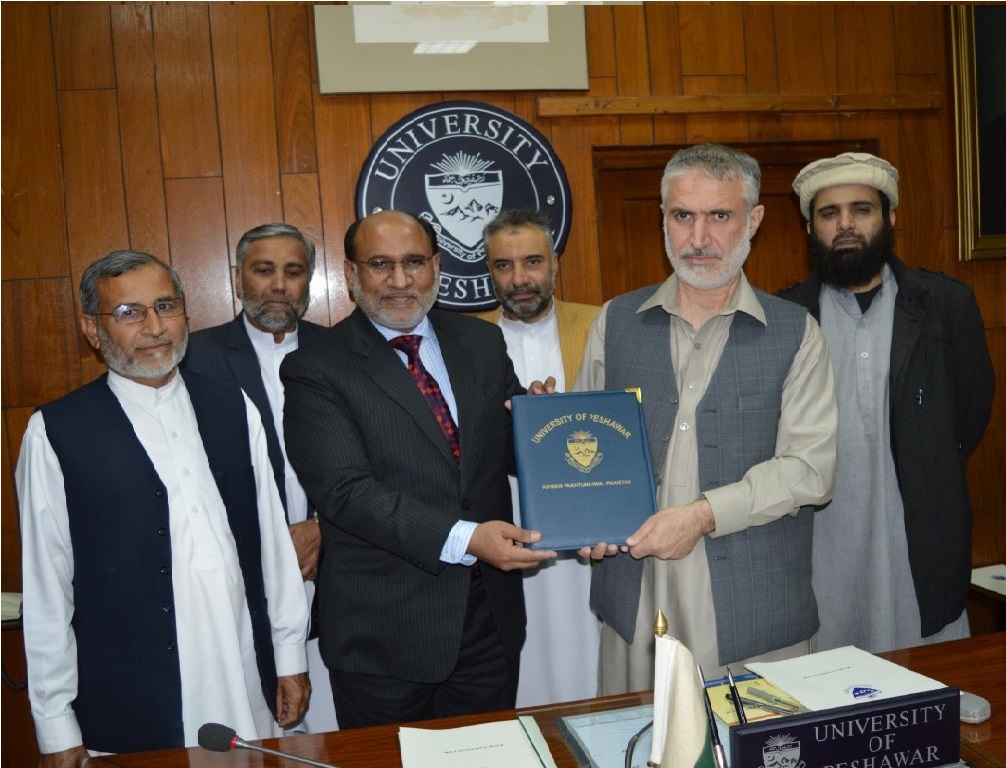 University of Peshawar and Eduvision, Islamabad have signed a Memorandum of Understanding (MoU), in order to strengthen academic linkages and collaboration between the two Institutes, in the areas of mutual concerns and benefit; to promote Education, Career Counseling, systemized educational guidance, Training, Welfare, development of youth, joint research Projects and to facilitate the exchange of research scholars and faculty members for teaching and research. The MoU was signed by Prof Dr. Muhammad Abid, Vice Chancellor University of Peshawar and Mr, Yosuf Almas, Chief Executive Officer, Eduvision Islamabad, here Friday. Registrar UoP Dr. Zulfiqar Ali, Director Institute of Education and Research Prof. Dr. Arshad, Assistant Registrar Planning and Development, Mr. Muhammad Uzair, were also present on the occasion.
According the MoU, both the Institutions shall provide academic, career, college access, and personal/social competencies to students, to offer education for all in different sectors of learning fields plus a variety of personal skills training, a chnnel of information for planning the future will be established, higher Education and professional institutions for scholastic support programs to catalyze students purists of super specializations would be served. The collaboration in research will promote the advancement of science, technology and human learning through the understanding of cooperative research on topics of mutual interest and expertise; and to stimulate contacts between researchers in the two universities and the formation of research linkages and groups, with particular reference to the work of graduate students in both institutions, the MoU affirmed.
The MoU, further states that the two Institutions will exchange experience in designing new programmes and identifying faculty members for short-term or long-term teaching assignments. It further states that before any particular cooperative project or programme is initiated, all financial details and required logistic support shall be negotiated and agreed upon by the two institutions, with each partner acting within the scope of the resources specifically allocated to this effect by administrative authorities. The MoU shall come into force for a period of five years upon the signature of both sides, and shall be renewed with their mutual consent and signatures, and can be amended by written agreement of both the parties, if needed.
Rafi Ullah
Assistant Director Communication