University of Peshawar and Women University Marden signed MoU for academic collaboration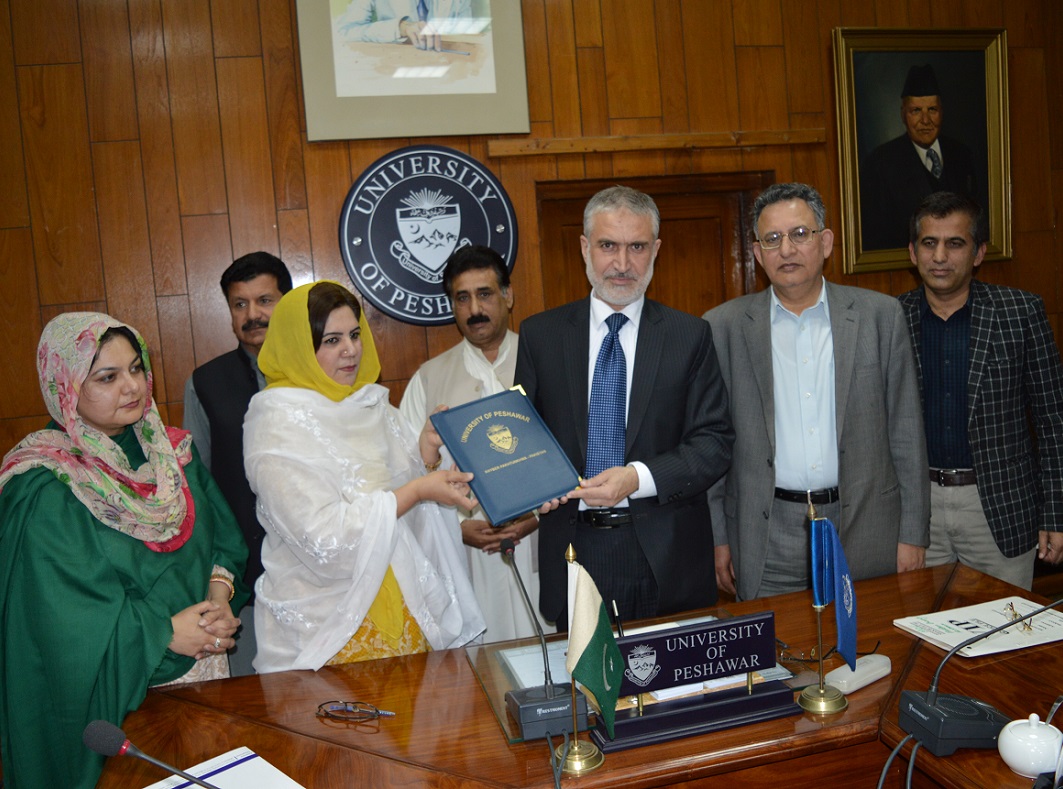 University of Peshawar and Women University Marden, have signed a Memorandum of Understanding (MoU), in order to strengthen academic linkages and collaboration between the two universities, in the areas of mutual concerns and benefit; to facilitate the exchange of research scholars and faculty members for teaching and research. The MoU was signed by Prof Dr. Muhammad Abid, Vice Chancellor University of Peshawar and Prof Dr. Ghazala Yasmin, Vice Chancellor, Women University Mardan, here on Monday. Director Planning and Development Dr. Zahid Gul, Chairman Department of Economics, Prof. Dr. Zilakat Khan and other faculty members were also present on the occasion.
According the MoU, the two universities shall facilitate the exchange of academic information and materials, promoting other academic cooperation as mutually agreed , exchange of faculty ,researchers, exchange of students: graduate and undergraduate to be specified in separate negotiated agreements, conducting collaborative projects and research collaboration, conducting lectures and organizing symposia, holding conferences, seminars and workshops and to stimulate contacts between researchers in the two universities and the formation of research linkages and groups, with particular reference to the work of graduate students in both institutions, the MoU affirmed.
The MoU, further states that the two universities will exchange experiences in designing new programmes and identifying faculty members for short-term or long-term teaching assignments. It further states that before any particular cooperative project or programme is initiated, all financial details and required logistic support shall be negotiated and agreed upon by the two institutions, with each partner acting within the scope of the resources specifically allocated to this effect by administrative authorities. The MoU shall come into force for a period of five years upon the signature of both sides, and shall be renewed with their mutual consent and signatures, and can be amended by written agreement of both the parties, if needed.
Rafi Ullah
Assistant Director Communications