Combined protest of the Univeristies Employees Associations against the sacrilegious materials uploaded on the Facebook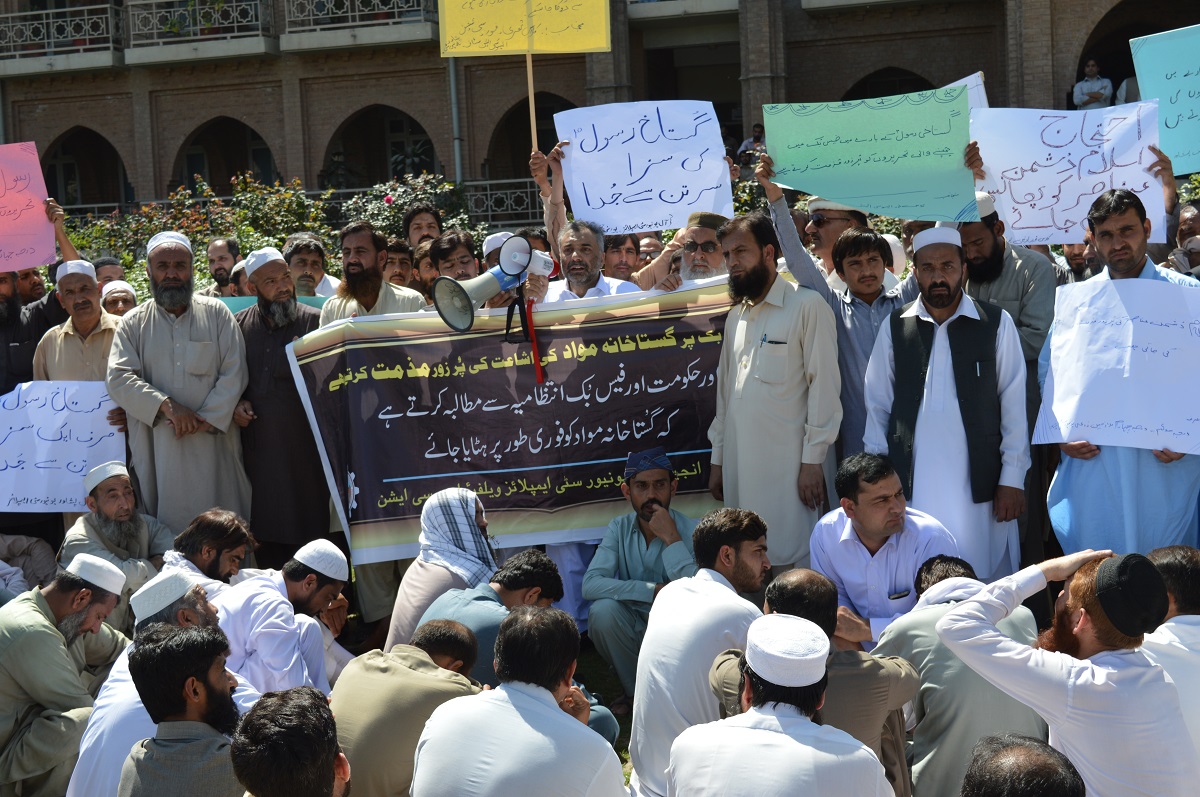 Employees Associations of various Universities including , University of Peshawar, University of Engineering and Technology, Agriculture University, Islamia College University and Khyber Medical College took to the road here on Wednesday to lodge protest against the continued blasphemy against the Holy Prophet (PBUH) on social media. They gathered in front of Engineering University , raised slogans against those who have uploaded sacrilegious materials on Facebook and induced warmly the government of Pakistan for blocking the pages involved in the blasphemy despite the warnings and didacticism.
While underlining the prestige, morality and reputation of the Holy Prophet (SAW), the Registrar, University of Peshawar, Dr. Zulfiqar Ali said that The life of Prophet Muhammad (peace be upon him) is full of countless examples that show his status as a role model for Muslim societies and individuals. His life is one that was dominated by a superior morality, good habits, noble and gentle feelings and superior skills, all of which are characteristics that help prevent people from getting entangled in a web of sin. The rich and the prosperous, the poor and the needy, the ruler and the ruled, the weak and the lonely, the conqueror and the victorious commander, the teacher and the student, the preacher and the mentor, the merchant and the craftsman, the employer and the employee - in other words, every sort of person can find truths in Prophet Muhammad's life that constitute an example for them to follow. we are ready to sacrifice our lives for the sack of our Holy prophet (SAW) without any tang of hesitation, he added.
It was expounded that the continued blasphemy should have moved the government and the Supreme Court to take immediate notice of the ugly and highly provocative practice that could have sparked unrest and turmoil across the country. Blasphemy was the biggest terrorism in the world and there would be no peace in the world if adequate international laws were not made against it.
Dr.Islam Gouhar, Ex-Chairman,Pushto Academy, University of Peshawar, termed blasphemous content on the social media conspiracy of western countries. He said, "non-Muslims cannot confront Muslims in ideological and military fields and are being defeated despite all sources. He said religio-political and social organizations of country should arrange valiant strategy on the issue.
The speakers said that freedom of expression is not the way of hurting others by any means as everyone must have to be in particular limits to assure individual and human peace as well.
They unanimously demanded the world's religious as well as political leadership to immediately organize a dialogue to formulate a universal policy which can help avoid such acts and intentions around the world.