World Press Freedom Day 2017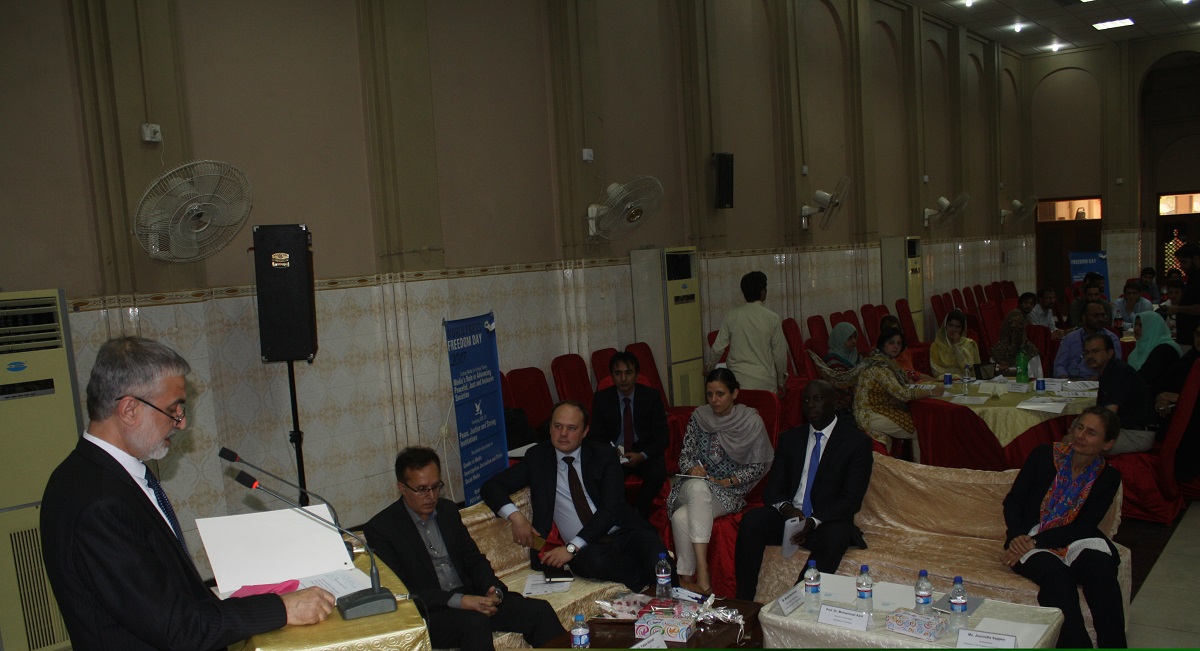 World Press Freedom Day 2017 was observed with the theme Critical Minds for Critical Times: Media's role in advancing peaceful, just and inclusive societies, at University of Peshawar here on Wednesday with an aim to encourage and develop press freedom initiatives and spur assessments of the state of press freedom. Vice Chancellor of the University, Prof Dr Muhammad Abid graced the occasion as a chief guest. Besides him foreign Ambassadors, developmental partners, Chairman Department of Journalism and Mass Communications, Dr Fazullah Jan, Well known journalists, faculty members and Students were present on the occasion.
While underlining the importance of the World Press Freedom Day the Vice Chancellor of the University, Prof Dr Muhammad Abid said that the World Press Freedom Day provides an opportunity to affirm the importance of freedom of expression and press freedom, a fundamental human right enshrined in Article 19 of the Universal Declaration of Human Rights. He stated that the media, viewed as an arbitrator, has an important role to play in encouraging and facilitating this communication and in providing an open platform for debate among all parts of society.

"Respecting cultural differences while preserving freedom of expression will always exist as a tension to be debated and negotiated in any democracy," he added
He said strengthening the principles and practices of a free and professional media is the most sustainable way of encouraging a media culture that works towards building peace. "Only a media that is vibrant, independent, pluralistic, inclusive and fair, editorially free and beyond censorship and influence from owners or interests can contribute to dialogue and reconciliation across divides," he added.
Country Director, UNESCO, solicited that UNESCO is highlighting the potential of the media to foster dialogue, mutual understanding and reconciliation, adding that communicating across cultural differences is a central challenge of the contemporary world where globalizing forces have accelerated interactions among peoples.
She further added that the United Nations General Assembly declared May 3 to be World Press Freedom Day to raise awareness of the importance of freedom of the press and remind governments of their duty to respect and uphold the right to freedom of expression enshrined under Article 19 of the 1948 Universal Declaration of Human Rights and marking the anniversary of the Declaration of Windhoek, a statement of free press principles put together by African newspaper journalists in 1991.
Rafiullah Assistant
Director Communications
University of Peshawar