UoP team discovers artifacts in Sulaiman Range of DG Khan
An archaeological team of the University of Peshawar (UoP) during digging along Sulaiman Range in Dera Ghazi Khan has found relics it believes date back from the Stone Age to the British colonial period.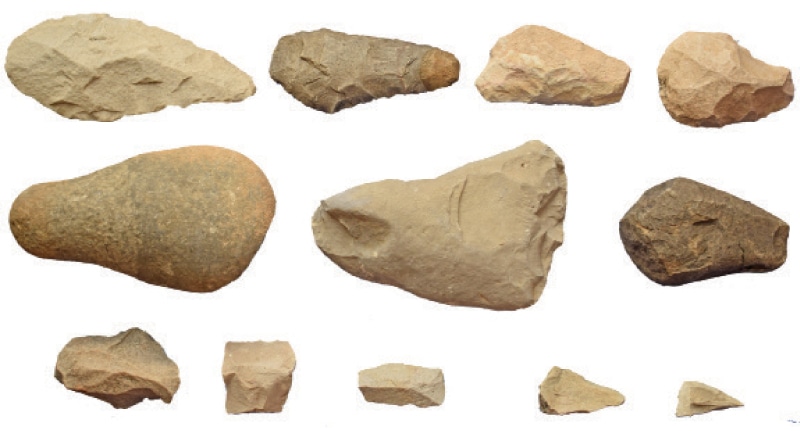 In a recent archaeological survey carried out by a team of the Sir Sahibzada Abdul Qayyum Museum of Archaeology and Ethnology, University of Peshawar, thousands of years old cultural artifacts have been discovered from a number of sites in Dera Ghazi Khan district of Punjab, along the foothills of Koh-i-Sulaiman.
The exploration is being conducted by Dr Zakirullah Jan, Nidaullah Sehrai, Mohammad Waqar, Safdar Iqbal, Mujeebur Rehman and Mohammad Waliullah.
The initial investigations reveal a good number of new archaeological sites ranging in date from the Stone Age to the British colonial period, claim Dr Zakirullah Jan who shared the findings of the survey.
Documenting ancient human settlements in DG Khan, a number of stone implements such as hand axes, flakes and cleavers, being used for butchering wild animals and grubbing up roots of the wild plants, have been collected from a number of sites that could be dated tentatively to the Lower Paleolithic age parallel with the Acheulean Hand Axe culture of France.
The Acheulean Hand Axes culture is widely spread in various parts of Pakistan, especially in the Soan Valley of Punjab and Rohri Hills of Sindh where dozens of such implements are reported earlier, said Dr Jan.
Such kind of artifacts of the Lower Paleolithic culture is a major breakthrough in the cultural history of Pakistan in general and DG Khan in particular. The sites are located on the banks of hill torrents, suitable for the early human population to exploit resources. Survey like this will arouse interest of those research scholars who are working on the prehistoric archaeology of South Asia, said Dr Jan.
The team was facilitated by the University of Peshawar, the Directorate General of Archaeology and Museums, Punjab, and the National Fund for Cultural Heritage as well as the local administration.
Dr Jan said that owing to inaccessibility and tough terrain the area had not been thoroughly investigated previously, but it had a great potential in terms of rich heritage.
He pointed out that the treasure hunters had caused damage to some of the archaeological sites at certain areas that needed steps to stop vandalism.