Academic brings laurels for Department of Geography
Hong Kong: An international Centre of Excellence for Integrated Research and Digital Earth will be established at University of Peshawar's Geography department. The Centre will be functioning under the Digital Belt and Road (DBAR) Science Program of Chinese Academy of Sciences. In addition, a virtual Satellite Receiving station being one of its kinds in the country having its ability to receive digital data of 21 Chinese Satellites will groom the young faculty research endeavors. In addition, a Weather Radar and early warning system will be established at the university.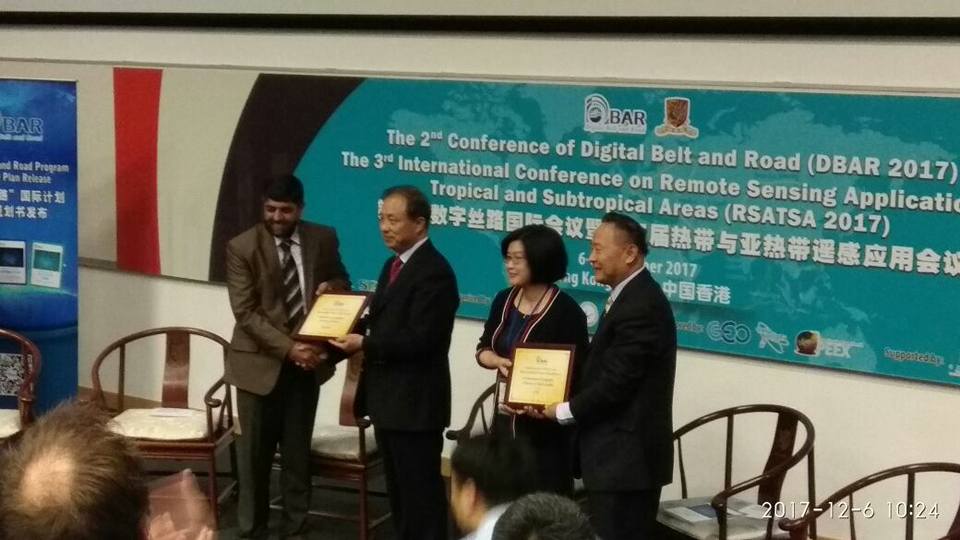 Dr. Atta-ur Rahman, an associate professor at the department of Geography made this possible at the International Conference of Digital Belt and Road (DBAR) at Chinese University of Hong Kong, Hong Kong China currently being held from 6-8 December, 2017.
Dr. Atta-Ur Rahman attributed his achievement to his mentor and renowned Professor of Global environmental Studies Rajib Shaw networking; for making this all possible.
Dr. Atta-Ur Rahman has presented a joint paper along GC University, Lahore professor Shakeel Mahmood on "Impact of Climate Change on Flood Factors and Extent of Damages in the Hindu Kush Region". Dr. Atta-Ur Rahman has also co-chaired a session with Professor, Fang Chen at the sixth session on Big Earth Data for Disaster Risk.
Dr. Atta-Ur Rahman teaches at under graduate, graduate, and postgraduate level at the department of Geography. He holds M.Sc. in Urban & Regional Planning (Gold Medal), M-Phil in Disaster Risk Management, Post Graduate diploma in GIS and Remote Sensing, Doctorate of Philosophy in environmental Geography, and Post Doctoral in Flood Risk Modeling and Management from prestigious Kyoto University, Japan. He has 104 research publications till date and has written four books published by international publishers.
Ali Imran
Media Officer,
University of Peshawar