Technology Innovation support Centre (TISC) will be functional soon under ORIC, UoP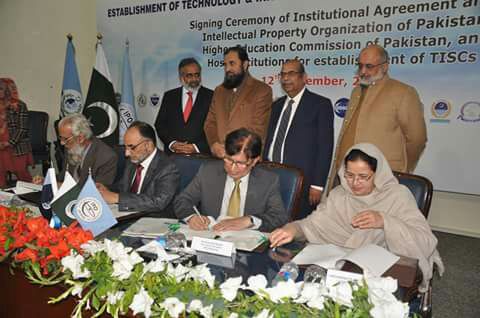 (Peshawar): A Technology Innovation support Centre (TISC) will be functioning soon under directorate of ORIC University Of Peshawar, through joint approval of Higher Education Commission and intellectual Property Organization Pakistan.
In this connection, a service level agreement was signed by contributing parties in HEC auditorium, Islamabad. Prof. Dr. Jasmin Shah represented University of Peshawar in the signing ceremony on Wednesday.
Under the agreement, University of Peshawar will have access to patent as well as scientific and technical literature databases. Further, focal persons will have an opportunity of capacity building through World Intellectual property Rights organization (WIPO), HEC & IPO.
Under articles of agreement, the project aims to provide an enabling IP environment for technology scouting, adaptation and innovation in the country. TISC will provide advice and support to the inventors in drafting patent applications and its filings while the centre will provide general knowledge on national IP laws and international IP systems/procedures.
This Agreement will be a sustainable effort for coming five years and will be strengthening Research labs and innovations protection at the University of Peshawar.
Ali Imran
Media Officer,
University of Peshawar