CPEC: Development and Peace are on their way to Pakistan boom: CPEC will alter KP Face building with infrastructure, peace and employment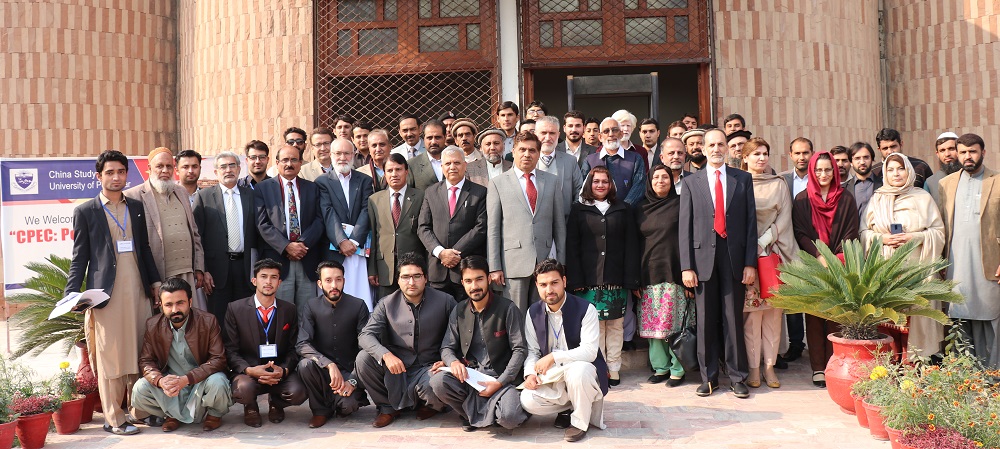 (Peshawar): A one day national conference titled as peace and development through CPEC in Khyber Pakhtunkhwa has call upon all stake holders to cement regional cooperation for making progress at the grass roots possible. The participants further suggested that the game changer can be avail through including neighboring countries especially Afghanistan but uncertainty among the neighboring countries can jolt the long term goals of the project pattern.
The chief guest on the occasion was Vice Chancellor Islamia college University Prof.Dr.Habib Ahmad, flanked by Pro Vice Chancellor UoP, Prof. Dr. Muhammad Abid, Vice Chancellor FATA University Prof.Dr.Tahir Shah,Vice Chancellor Shaheed Benazir Bhutto University Prof. Dr. Razia Sultana , senior Journalist Rahim Ullah Yousafzai and other noted scholars from national universities and think tanks participated in the conference.
In a welcome address, Prof. Dr. Muhammad Abid has called upon stake holders to respect deep trust between China Pakistan that is real game changer in geo strategic positioning of two countries together for future collaborations .He stressed that positive element of CPEC is the development pace considering environmental, bio-diversity and geological hazards. He said that University of Peshawar has signed number of MoUs to bolster academic cooperation with Chinese universities to ensure scholarships, technology transfer and exchange programs.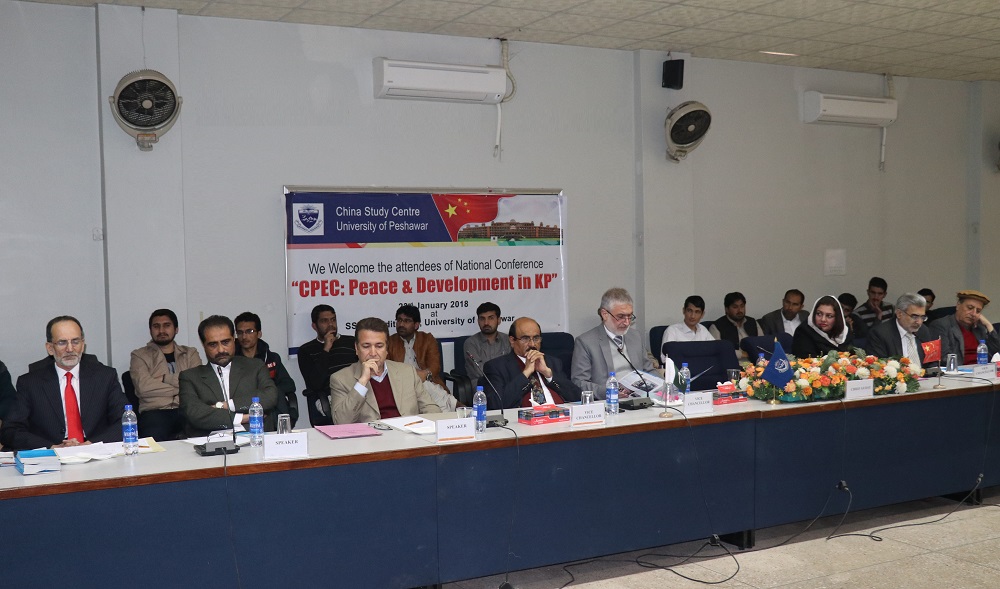 The chief guest, Vice Chancellor Islamia College University Prof.Dr.Habib Ahmad brought to the notice of audience that without Understanding Russia and China as regional player, one cannot assess the real potential of the region. He said that this project is Part two of Silk Route in modern way that is easing out trade both eastern and western directions .He said that if project implemented in true sense and will take region to peace, militancy free and full of employment.
Prof.Dr.Razia Sultana Vice Chancellor Shaheed Benazir Bhutto University while presenting paper in a key note address said that CPEC will bring 17 industrial zones to Khyber Pakhtunkhwa province on which work on first industrial zone has been kick started. She said that the real game changer will be in term of productive women force and enlightened students taking higher education from China and CPEC component.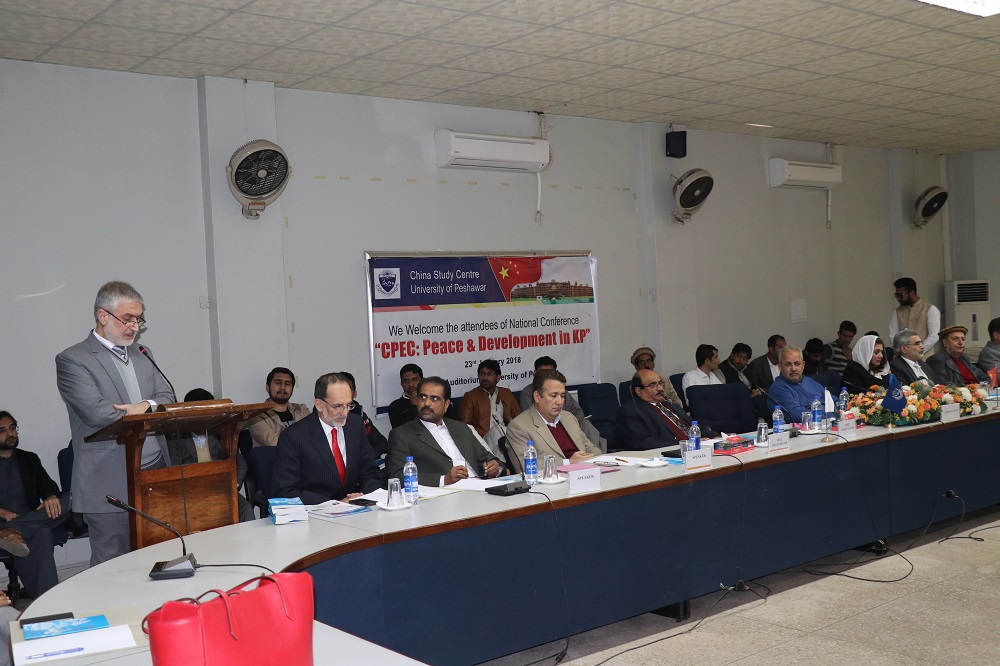 In the morning session, six speakers in the afternoon session discussed different aspects of CPEC in the context of province. Mr. Zamir Awan Deputy Director, Chinese Study Centre, NUST highlighted the nexus between peace and development. Mr. Amir Rana, representing Pakistan Institute of Peace Studies (PIPS) Islamabad analyzed Pakistan economic policy in the context of CPEC. Mr. Shahid Ilyas senior research fellow of the Institute of Regional studies (IRS) discussed regional integration in the light of CPEC. Nazir Ahmad, Director KP-TEVTA discussed transformation of training and vocational institutes in KP in the era of CPEC. Prof. Dr. Muhammmad Khan of IIUI talked about geo-strategic development and Pakistan in the context of One Belt One Road. Prof. Dr. Amir Khan of CPEC-Think Tank Islamabad explained different projects of CPEC and regional integration and socio-economic development in KP, Pakistan and CPEC. Renowned journalist of Pakistan Rahimullah Yusufzai chaired the session and emphasized balanced approach to CPEC.
After lunch, the third session started with Dr. Raza Rahman Qazi presentation ,who discussed in detail the impact of CPEC on internal and external integration. Prof. Dr Sohail Ahmad in his presentation highlighted avenues of cooperation between China and Pakistan in the field of agriculture. Dr Muhammad Sajid, Assistant Professor, Department of Geology gave presentation on Pak-China cooperation the field of rare earth elements (REEs). Prof. Dr. Zahid Anwar, delivered his presentation on, CPEC: Peace through development in KP, Pakistan. The session was chaired by Prof. Dr. Tahir Shah, Vice-Chancellor FATA University. He said that CPEC is a blessing and this opportunity should not be missed. In the concluding remarks, Prof. Dr Mohammad Abid thanked all speakers, participants and organizers of the conference for making the event a success. Former VCs, current Deans, HODs, scholars, journalists, academicians, practitioners, civil society and students participated in the conference.
Ali Imran
Media Officer,
University of Peshawar