Chinese Ambassador H.E. Yao Jing visit to University of Peshawar. China seeks regional understanding of Central Asia through University of Peshawars' institutions: Chinese Ambassador. CPEC is not a project rather its long lasting people to people contact between two countries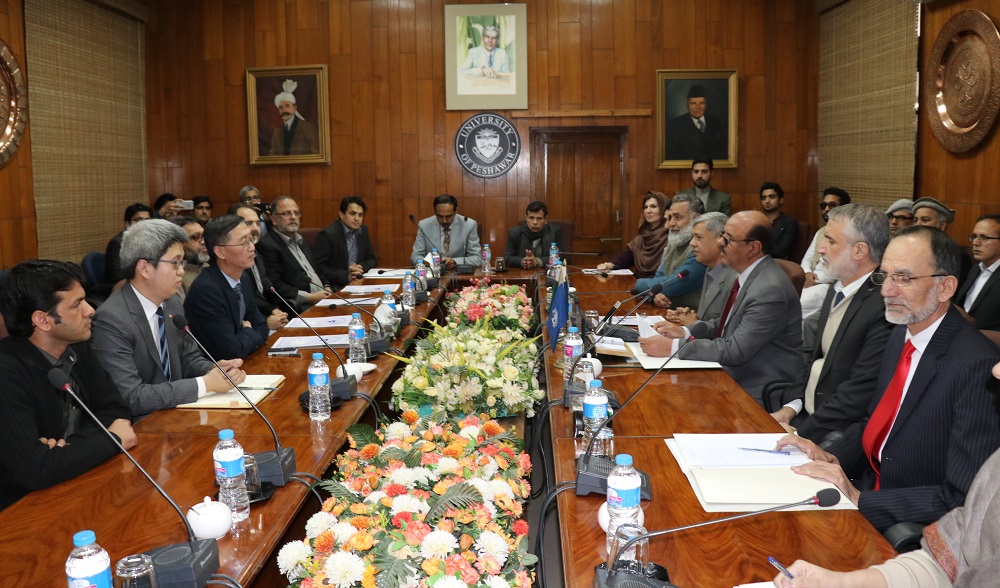 (Peshawar): University of Peshawar is a focal point where China is looking to gain understanding of Central Asia, Pakistan and Afghanistan. The China Study Centre at University of Peshawar will help Chinese academics to gain broader understanding of the area. These statements were made by Chinese ambassador to Pakistan H.E. Yao Jing at University of Peshawar who came to Peshawar on a day-long visit.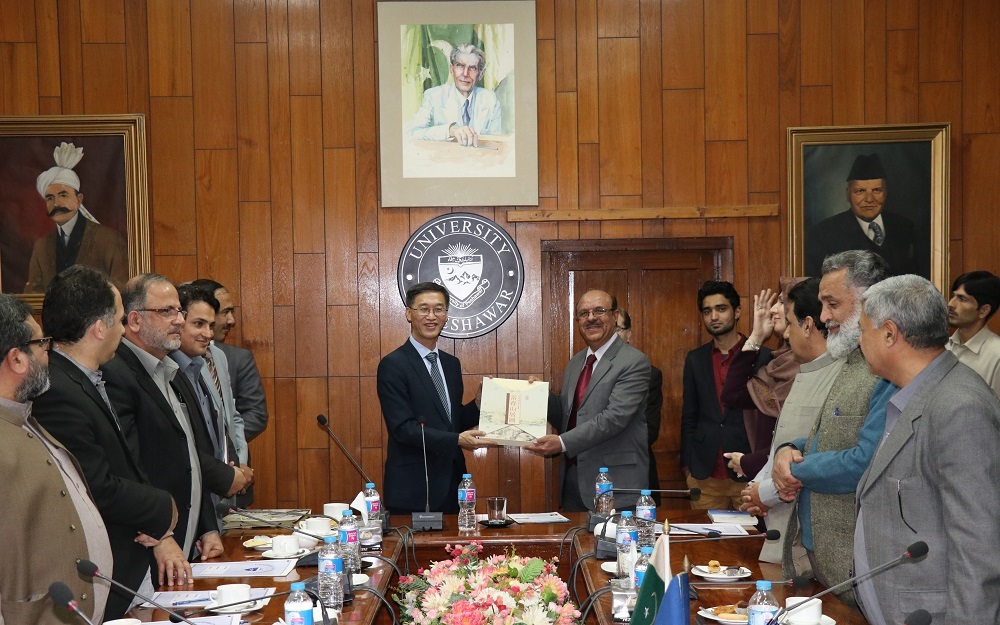 The Vice Chancellor, University of Peshawar Prof. Dr. Muhammad Asif Khan welcomed the H.E the Chinese ambassador Yao Jing. University's' Deans, Directors and senior administrative staff members were also present on the occasion.
The Chinese ambassador call upon the University administration to take on benefits of one belt; one road and CPEC projects .The ambassador said that CPEC is not building highways as most people misunderstood it that way but essentially long term people to people contact . The ambassador said that Chinese embassy is looking ahead to accommodate students of University of Peshawar in upcoming higher education scholarships phase that is ending in March 2018.He called upon the UoP administration to tell students to apply for scholarships in big number.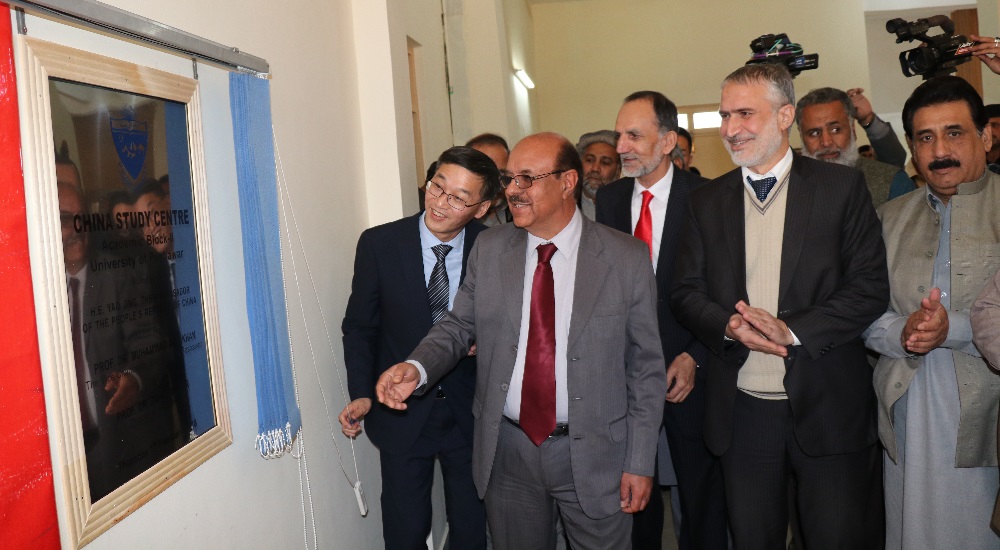 The ambassador said that Chine Study Centre at university of Peshawar will be helping universities and people of both the countries to foster cooperation in all walks of life from literature, science, technology, education and it would be not be limited to Chinese language promotion only.
The Chinese Ambassador narrated his visit 10 year back to Peshawar and mentioned that a lot of development is made at University of Peshawar that is very encouraging and reassuring for the University's bright future."I must acknowledge, it's a modern university now", the ambassador quoted. The ambassador said that his government is looking to facilitate students to students exchange programs, and China Study Centre is one-stop to facilitate student camps, host summer camps, bilateral students to students and Faculty to faculty exchange program in both the countries.
The ambassador said that cooperation in higher education with University of Peshawar will have a deep impact and will earn harmonious neighborhood. He called upon the university to put proposals forward in writing to Chinese embassy and would be readily be accommodated.
The Vice chancellor, University of Peshawar in his welcome and concluding remarks paid gratitude to visiting Chinese ambassador for his commitment to promote and place University of Peshawar among the prominent universities of Pakistan. The Vice chancellor, University of Peshawar bring to the notice of ambassador that university is planning to commence Bachelor Studies in Chinese language, Certificate/diploma courses of Chinese language and testing centre of Chinese language at University of Peshawar.
The Vice chancellor UoP said that his university needs active cooperation from Chinese engineers to keep maintaining of Centralized Resource Laboratories (CRL) and scholarships for students in applied sciences. He briefed the ambassador that Area Study centre, Pakistan study Centre and China Study Centre will collaborate together to build long lasting academic exchange with Chinese government to foster regional understanding of the people .
The delegation later after meeting with hosts at Committee room I, visited China Study centre at Academic Block II. The Chinese ambassador Yao Jing in memorial of the visit cut the blue ribbon and inaugurated the plaque at the China Study Centre.
The China Study Centre was established through active cooperation with Chinese Embassy on 17th October, 2016 through former Chinese ambassador H.E. Sun Weidong visit in the inaugural participation.
Media Officer,
University of Peshawar