International Conference on Oral literature concludes at University of Peshawar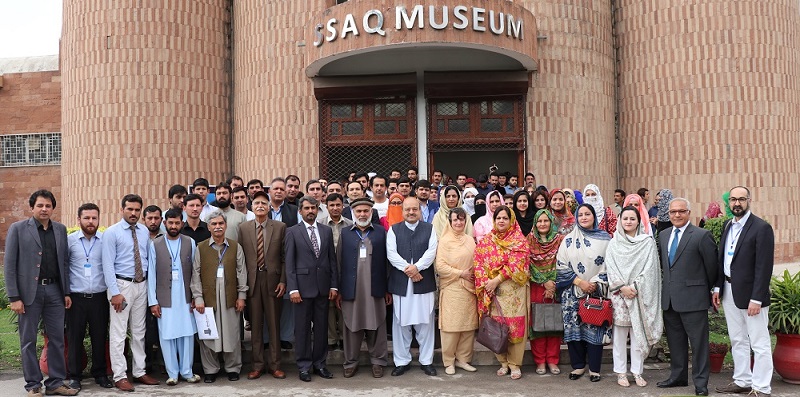 (Peshawar): A one day international conference titled as "Oral Literature: past ,present & future under the funding of Higher Education Commission organized by the Sociology department ,University of Peshawar concluded at the Sir Sahibzada Abdul Qayum Hall auditorium here on monday.
At the inaugural session, the project lead, Dr. Noor Sana uddin, while briefing the participants about the conference aims and objectives said that that University of Peshawar will in three months time will have a web portal on which there will be 10,000 Pashto proverbs along with all the output of project encompassing oral Literature & folklore.
Dean faculty of Social Sciences, Prof. Dr. Syed Minhaj ul Hassan said that a landmark project is currently in process to take toll of Partition of India through Oral account of experiences in the country. This he said would be an addition to research as an authentic and primary data contrary to the third person account. He appreciated the event as it would serve and highlight the oral tradition and oral literature.
Liza Shuster, a professor from University of London pointed out that out of 13,000 tappay/landay, she has explored in her research along with Riaz Shinwari, a teacher at University of Kabul. They found 7000 tapays were in sharp reference to migration . She presented that during forty years of Afghan war , destinations , sense of separation and identity are keep changing in expression of tappay .
Dr. Nasir Jamal khattak in his paper, opined that gun trigger, revengeful and fighter Pashtuns identities are being depicted in most of the folklore and literature. But on the other side , Pashtuns are not depicted peace loving, family loving and hateful of violence .He stressed that Pashtuns side of story is well depicted in folk lore but has been underplayed to make him guardian of border and invader.
Professor Anoosh Khan said that the song Bibi Shireenay has depicted the ever green character of Pashtun women in their time and space and played a universal role that is not static but dynamic and changing.
Professor Ahmad Ali Aajiz, said that enculturation of Pashtun children while playing folk sports were instrumental in nourishing sense of competition, cooperation and co-existence. He further said that these sporting events also negated the gender discrimination that is so rampant in our current society.
At the concluding session Professor Johar Ali has called upon researchers to highlight the oral literature and Folk lore as it heralds the latent social movements, injustices and diversity of culture.
The organizers vowed to stage a three day international conference next year on the pattern of the today's conference.
Ali Imran
Media Officer,
University of Peshawar