Eman Gul wins SESAME Research Fellowship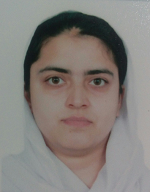 Ms. Eman Gul a young M.phil. scholar at institute of Chemical Sciences, University of Peshawar currently conducting her experimental research work at Pakistan Institute of Nuclear Sciences and Technology (PINSTECH), Nilore, Islamabad, has won a prestigious fellowship in OPEN SESAME Training fellowship ,2017 Call.The international centre for Synchrotron light for experimental science and applications in the middle east is established in Jordan , and working under the auspices of UNESCO.
It's mission is to to promote international collaboration in the Middle East and neighbouring countries using synchrotron light for basic and applied research in physics, chemistry, biology, material science environment, medicine, archaeology, and other research areas of relevance to the region. The European Union is supporting the training needs of the sesame light source through a Horizon 2020 project. The overall objective of the open sesame is to support the training needs of the sesame light source and to ensure its efficient exploitation by researchers across the eight sesame member countries including Pakistan.
Ms.Eman Gul is the first and only research scholar who has been selected from Pakistan .Undercthis fellowship , She will carry out her research work at one of the world leading laboratories Elettra Sincrotrone Trieste, Italy and European host facility of Sesame.She will be proceeding next week to Italy to join her lab work under the supervision of Giuliana Aquilanti,Head of XAFS beam line.

Media Officer, UoP