American Embassy Hosts University of Peshawar Students
Islamabad: American Ambassador David Hale hosted a group of International Relations students from the University of Peshawar for a lively discussion on the U.S.-Pakistan relationship and the role of diplomacy in promoting peace. In his remarks to the students, Ambassador Hale talked about his own study of international relations and its influence on his career. "Diplomacy provides solutions to the most complex of challenges," he said, "and Pakistan's next generation of leaders, which you represent, can help bring peace and stability to the region."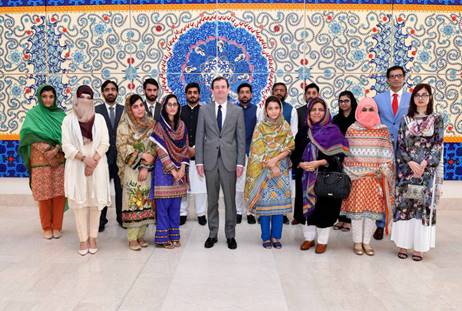 The students' meeting with Ambassador Hale was part of a half-day program. American officers briefed the students on the Embassy's work and explained study and exchange programs available in the United States for Pakistani students. They also had lunch with American diplomats and viewed some of the Pakistani artwork on display at the Embassy. "What a wonderful place to work!" said one of the students.
"This was a unique opportunity for my students to speak with an ambassador and gain a deeper understanding of Pakistan's relationship with the United States," said Dr. Syed Hussain Shaheed Soherwordi, chairman of the University of Peshawar's Department of International Relations. "The chance to share perspectives with American diplomats shows the strong educational cooperation we have with the United States."
The delegation was lead by Prof. Syed Hussain Shaheed Soherwardi and Prof. Nasreen Ghufran. The topics discussed ranged different angles of Pak Us relations which included US policy towards South Asia especially India and Pakistan, Afghanistan, terrorism and the US counter terror policy, middle east and current US administration policy in the region.