Political Science Department holds international Conference on Pak-Afghan Borderland
A three day international conference entitled as "Dynamics of change in the Pakistan-Afghanistan Borderland " at Bara Gali Summer Camp of University of Peshawar concludes with the aspirations to built out of box thinking in stakeholders to strengthen opportunities of social and economic cooperation at the borderlands. Around 26 papers were presented at the conference being arranged by the Political Science department under active cooperation from Hanns Seidel Foundation (HSF).

Vice Chancellor University of Peshawar Prof. Dr. Muhmmad Asif Khan while speaking at the concluding session congratulated the organizers of the conference for successful conduct of the conference and hoped that national and international policy makers will be greatly helped through such dialogues and communication through global experts on the region.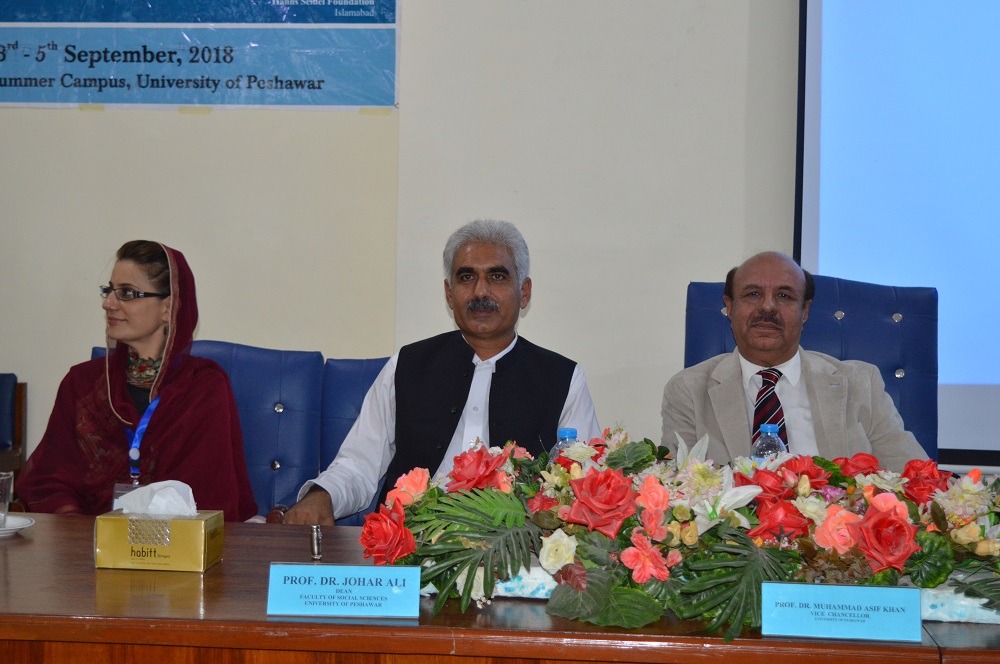 Senior Advisor to Afghanistan ministry of Education Dr. Ata Ullah Wahidyar in his key note address call upon the stakeholders to consider the vast water and mineral resources available on the borderland s of both the countries for proper utilization . He opined that there is no concept of 'hard border' as such and both countries have to develop soft border mechanism considering the centuries old commute and relationship between the people .
Dr. Timothy M. Shaw while presenting his paper on problematic multi-culturism and ebullient regionalism said that "stalled global reform is fuelling regionalism' and contrast between G-7 and G-20 is building a new paradigm that is challenging the traditional North industrialized nations .He predicted that regional trade and blocks will last long if sustainable democracy and political stability maintained by emerging economies.
Ankita Kumari, a scholar from JWU, New Delhi presented her paper on textual analysis on short story collections of Jamil Ahmad to shed light on the tussle between the assimilative policy of the state and the resisting approach of the tribe to continue maintaining its relative autonomy over the area.
Meanwhile, Peace Research Institute of Oslo(PRIO) scholar, Kristian Berg Harpviken ,presented his paper on the vicious cycle of conflict and migration and elaborated a new perspective on exile militarization through return and resettlement with the evolution of the relevant militant groups.