Pakistan Study Centre holds inter faith dialogue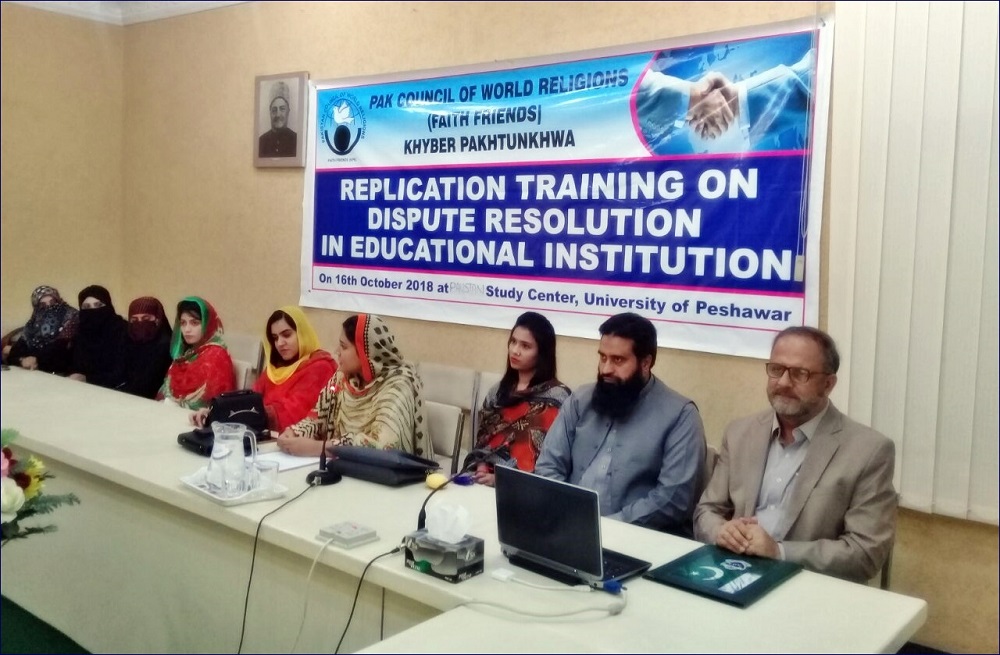 Pakistan Study Centre University of Peshawar and Pakistan Council of World Religions (Faith Friends) held a joint National workshop on " Dispute Resolution in Educational Institutions".
Prof. Dr. Fakhr-ul-Islam presided over the workshop. Ms. Raveena Haroon and Christiana Advocate were resource persons. Selected staff members and students attended the workshop. Mr Maqsood Ahmad Salafi, Chairman Peace Foundation inaugurated the workshop.
In his inaugural speech, Mr. Salafi said that Quran , Sunnah and Pakhtun culture promote peace and tolerance. He said that interfaith harmony can ensure peace in the society.
In their presentations, Miss Raveena Haroon and Christiana Advocate highlighted the concept of conflict resolution. They interacted with the participants and responded to multiple queries by them. Prof Dr Fakhr-ul-Islam and Maqsood Ahmad Salafi distributed certificates among the trainees. Speaking on the occasion Prof Dr Fakhr-ul-Islam said that societies and states behave like living things. They suffer from various diseases. The critical and contagious disease of a given society is conflict. If conflict is not cured well on time, it spreads in the whole body of the society. He said we need to bring into action our religious and social institutions for resolution of conflicts. Miss Remmna thanked the organizers and participants for their hard work and patience.