VC UoP handovers certificates to International virtual Journalism Exchange programs participants
RMIT, Stanford, USIP and UoP are key partners in Virtual Journalism programs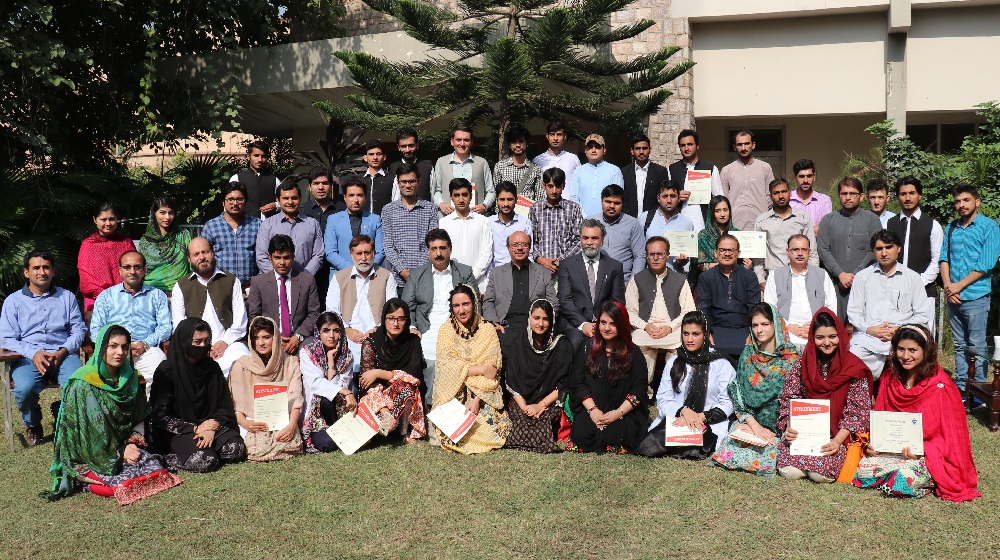 Peshawar: University of Peshawar shall continue to further extend the certificate courses for upcoming students in the academic session to strengthen its global standing in journalism world. These views were expressed by the Vice Chancellor, University of Peshawar Prof. Dr. Muhammad Asif Khan while distributing sixty certificates for two courses in Reporting from Conflict zones and one in Peace Syllabi among the participant's students and mid career journalists at the department of Journalism and Mass communication, on Friday.
On this occasion, the Projects lead Prof.Dr. Altaf Ullah khan was flanked along Chairman Journalism department, Dr.Faiz Ullah Jan with all the faculty members.
The peace syllabi courses were collaborated under the auspices of United States Institute of peace in the session 2016 while the Reporting from Conflict zones were carried jointly by university of Peshawar and Royal Melbourne Institute of technology students in the sessions 2017and 2018. The RMIT and UoP Virtual journalism Exchange program has been monitored by the Stanford university to provide foundation knowledge on glocalization patterns. Moreover, the courses were planned on nine themes chief among them development, gender, fashion ,sports, newspapers, women empowerment, to instill understanding between two university students to know one another on virtual platforms and role of fixers role in global journalism. Meanwhile, the exchange helped in understanding journalism perspective in both the academic world through which students shared and contributed roles in reciprocal.
Speaking on the occasion, vice chancellor University of Peshawar called upon the students and mid career journalists to understand not only the preparatory phase of journalism but also to know the impact of the story on individual, society, national and global level. He lamented that the high pace journalism demands has increased the challenges and responsibilities level on journalism practitioners.
Prof. Altaf Ullah khan said that no matter where a journalist may work even in a village, he or she must know the global implications of his or her work. He pointed out that he shall be working for this region even if he is departing shortly from university of Peshawar. He thanked the vice chancellor for extending the courses timeline to further benefit the students in the upcoming session.
Dr. Faiz Ullah Jan chairman Journalism department said that the department will be able to shortly offer BS-4years programme to bring up a new cadre of journalists in the province with the glorious tradition of past.
The Virual exchange program stories and perspectives can visited on RMIT website along with other websites like www.iprjmc.org.pk and thefarbridge.com.
Media Officer,
University of Peshawar