Dialogue on life in campus for students' report launched at University of Peshawar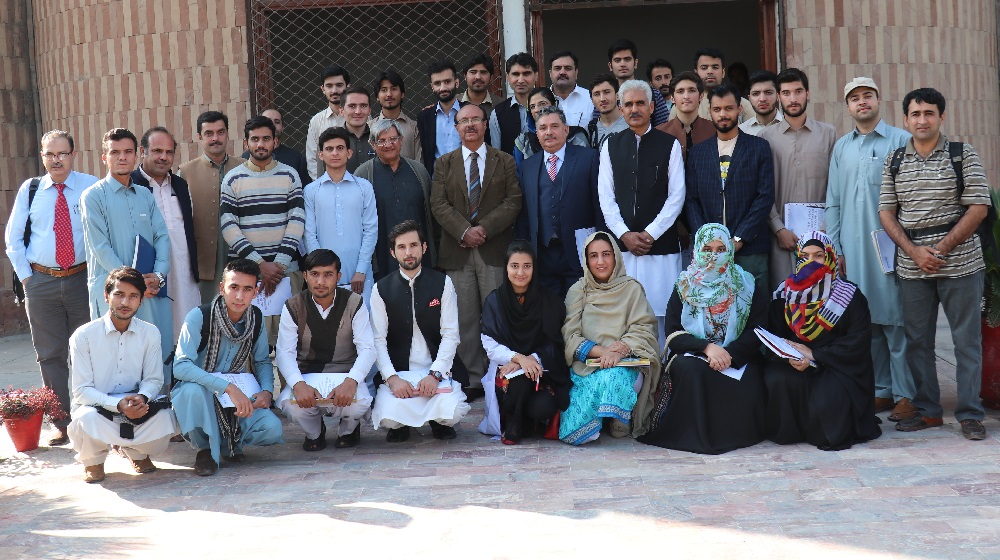 Peshawar: Federal, provincial governments and universities must ensure interprovincial visits for students to gain perspective on each another culture, thinking, local institutions to promote diversity peace and tolerance among students community. These views were expressed by panelists in a report launching ceremony at SSAQ hall, University of Peshawar entitled as "Dialogue; Life on Campus," jointly by Media House Islamabad ,Friedrich Ebert Stiftung and three Khyber Pakhtunkhwa partner Universities namely University of Peshawar, Kohat University of science and Technology and University of Swat.
The sixteen page report summed up the recommendations and conclusions of several focus group discussions held with these universities students in the year 2017 and 2018.
The Vice Chancellor University of Peshawar, Prof. Dr. Muhammad Asif Khan appreciated the report but at the same time called it alarming and disappointing. The Vice chancellor mentioned that in a meeting at HEC, Islamabad he objected individually on the developing proposal of popping up two dozen universities in the country citing fears of eroding diversity at the cost of localization of tertiary education. He mentioned that student societies and literary activities must be promoted to enable students to have a keen learning curve with a dynamic set of theory for professional life ahead. He called upon teachers to add colours to black and white picture of the student's perception of the world.
The panelists for the report launching ceremony were Prof. Dr.Nasir Jamal Khattak,Dr.Anush Khan, educationist Khadim Hussain and head of 'Pashtun ThinkTank' and former IG, Akhter Ali shah presented their views regarding the report and general environment of the universities.
Dr. Anoosh Khan called upon universities to set a level for the university students to reach a standard where students could easily appreciate diversity and differences. She said that literary activities are bed rock of the universities, and they must be promoted to curb extremism and radicalization in the society.
Dr. Nasir Jamal Khattak said that problem with the intolerance in the society is that monotonous and uniformed things are at work at home, neighborhood and the educational institution. He lamented that our situation has become just like much quoted novel "Animal Farm" where heroes are switched to villains' role and truth has been replaced with deceit.
Khadim Hussain expressed his concern that many things in our society are externalized for offering excuses for current state of affairs .He blamed that students and teachers are kept away purposely from policy making levels. He pointed out that lack of critical thinking and absolutism in our universities are offering no room for progress. He called upon universities to be engine of knowledge production with belief in meritocracy.
Akhter Ali Shah said that social order that promotes education and research go ahead with the time but on the other hand societies that hamper critical thinking goes anonymous even in the history books. He said that time has come to promote reason and logic with no absolutism.