Pakistan Study Centre marks "Iqbal Day"
Commemorating the birthday of the national poet, Allama Muhammad Iqbal, a seminar was held at Pakistan Study Centre University of Peshawar to pay homage to the vision presented by "Poet of East" that led to the creation of Pakistan, on Friday,09th November.
Faculty members, staff and students attended the seminar. Prof. Dr. Fakhr-ul-Islam was the key note speaker.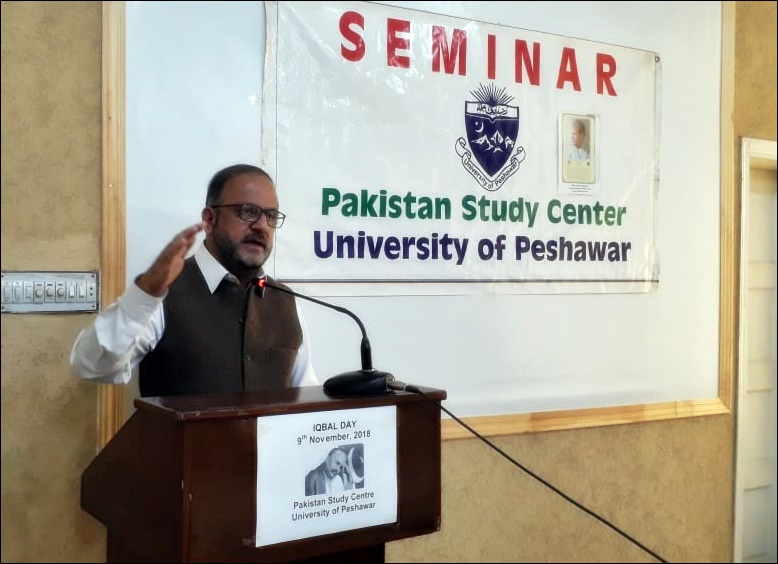 Dr. Fakhar highlighted various aspects of Iqbal's personality especially his political and philosophical role. He said that Iqbal laid the very philosophical foundations of the new born Islamic state in the Indian sub-continent.He said that Sir Allama Iqbal not only occupied key positions in All India Muslim League but was elected member of Punjab Legislative Assembly, where he presented an historic resolution to establish two universities in present KhyberPakhtunkhwa and Balochistan. He thanked Sir Iqbal for laying the ideological foundation basis for University of Peshawar because in British ruled India , North West Frontier region ,higher education was never given a thought due to Colonial legacy.
He said that the greatest contribution of Iqbal was his 1930 address of Allahabad wherein he presented a roadmap for autonomy and ultimate freedom of Indian Muslims. He urged upon the young generation to study Iqbal's thoughts and vision.