UoP holds dialogue on Philosophy for life, academia and markets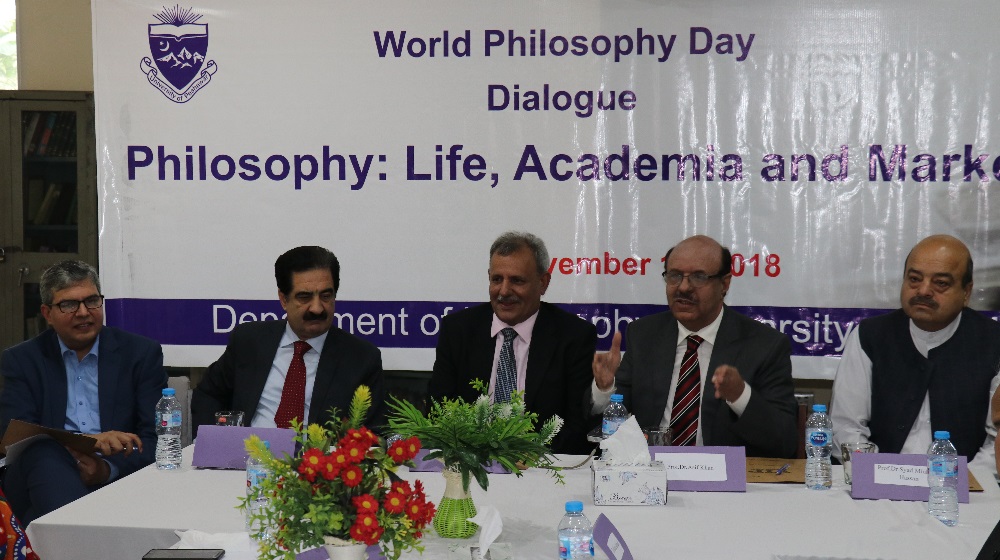 Peshawar: On the eve of world Philosophy day, the University of Peshawar held a dialogue on philosophy for life, academia and markets. The HED secretary Manzur Ahmad and Vice Chancellor University of Peshawar Prof. Dr. Muhammad Asif Khan has graced the occasions at the concluding and inaugural sessions respectively.
Iqra University Vice chancellor Dr. Shahjahan, Noted Pashtun activist Hamayun Bacha, Prof. Shafiq ur Rehman, Dr. Sarfraz Khan, Professors panelists from the University along with Dean faculty Prof. Minhaj Ul Hassan and Dean of Social Sciences Prof. Johar Ali participated in the dialogue among others.
Speaking at the concluding session Higher Education Secretary, Manzur Ahmad said that philosophy is proved to be the panacea for all the ills faced by the society since it's proving a ladder to reality and an answer to social complexities. He said that higher education department is striving to introduce Philosophy as a subject in the colleges' education system to build critical thinking in students. He said that he will give a lion share in scholarships to Philosophy department for promoting the discipline in the masses.
Earlier, while opening the dialogue,the vice chancellor University of Peshawar, Prof.Dr. Muhammad Asif Khan said that philosophy is a meeting place for humanities and sciences .He added that geology and philosophy are the two most ancients and basic courses for humanity. He assured Dr. Shuja that his administration will do utmost for uplift of department in matters of faculty enhancement and basic needs.
Introducing Philosophy length and breadth, Dr.Shuja Ahmad said that metaphysics, epistemology to ethical systems and argumentations are strokes of the subject. He stressed that Philosophy will offer the mettle of same personalities like of Intisar ul Haq and Dr. Salim , if properly patronized by the authorities. He promised that the department will soon offer short courses in argumentation, discourse analysis, gender ethics with a proposed plan for a journal.