CPEC umbrella is key to regional peace and development: Speakers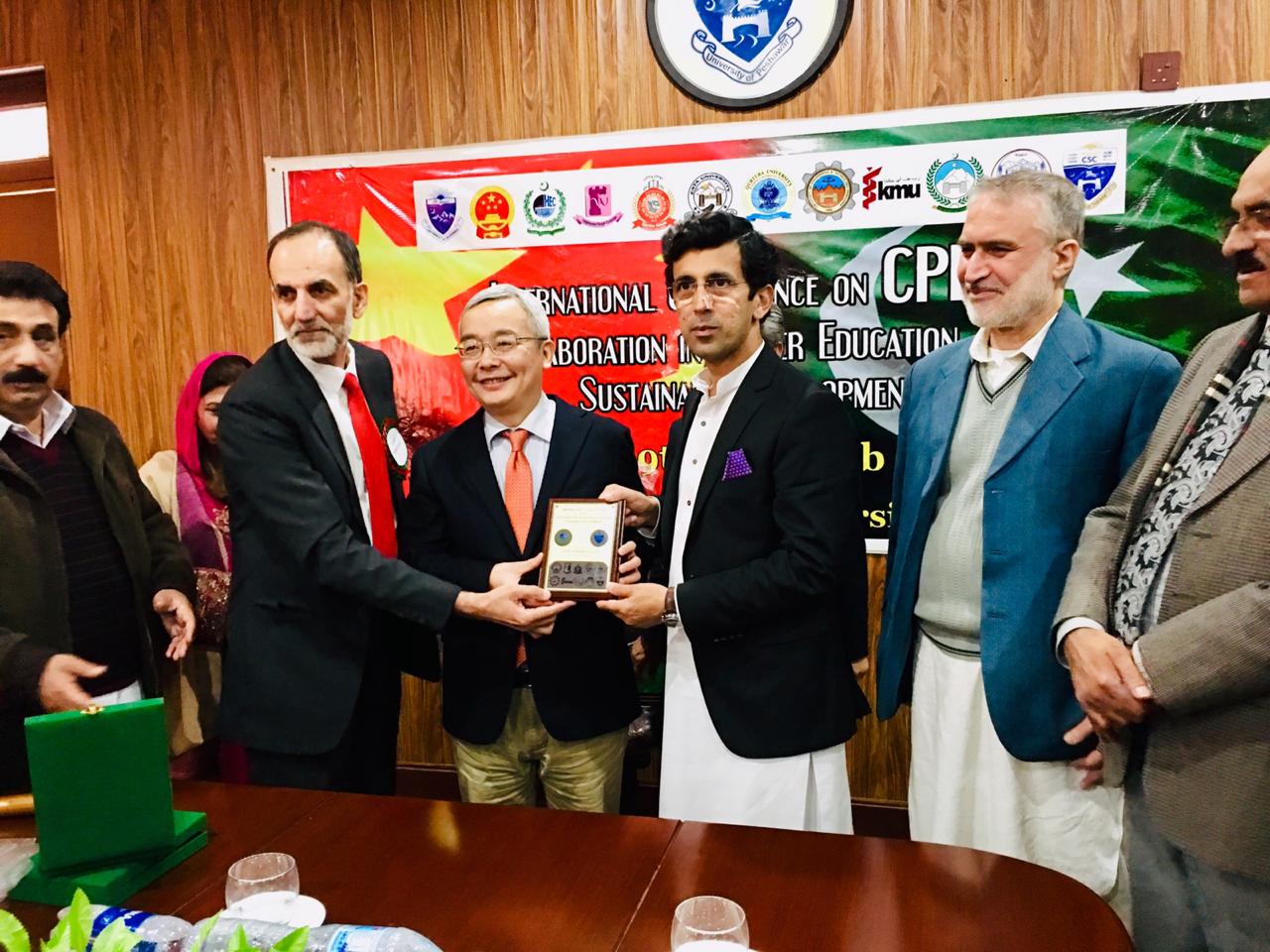 Peshawar: Mr. Shahram Khan, Senior Minister and Minister of Local Government, Government of Khyber Pakhtunkhawa has emphasized better understanding between the China and Pakistan through CPEC initiatives. He further elaborated the provincial and federal government support to CPEC and hoped that it will strengthen regional peace and development. This he said while gracing the event as chief guest in the concluding session of three day international conference entitled as "CPEC: Collaboration in Higher Education and Sustainable Development" from 19th to 21st February 2019 at the University of Peshawar.
China Study Centre, University of Peshawar in Collaboration with Embassy of the People Republic of China, Higher Education Commission, Pakistan, Higher Education Department Khyber Pakhtunkhwa, Bacha Khan University Charsadda, FATA University, Khyber Medical University, Qurtaba University of Science and Information Technology, Shaheed Benazir Bhutto Women University Peshawar, University of Engineering and Technology, Peshawar and Islamia College University Peshawar has organized an International Conference on, "CPEC: Collaboration in Higher Education and Sustainable Development" from 19th to 21st February 2019 at the University of Peshawar. Its inaugural session was held at Pearl Continental Hotel Peshawar and the remaining sessions at the China Study Centre University of Peshawar.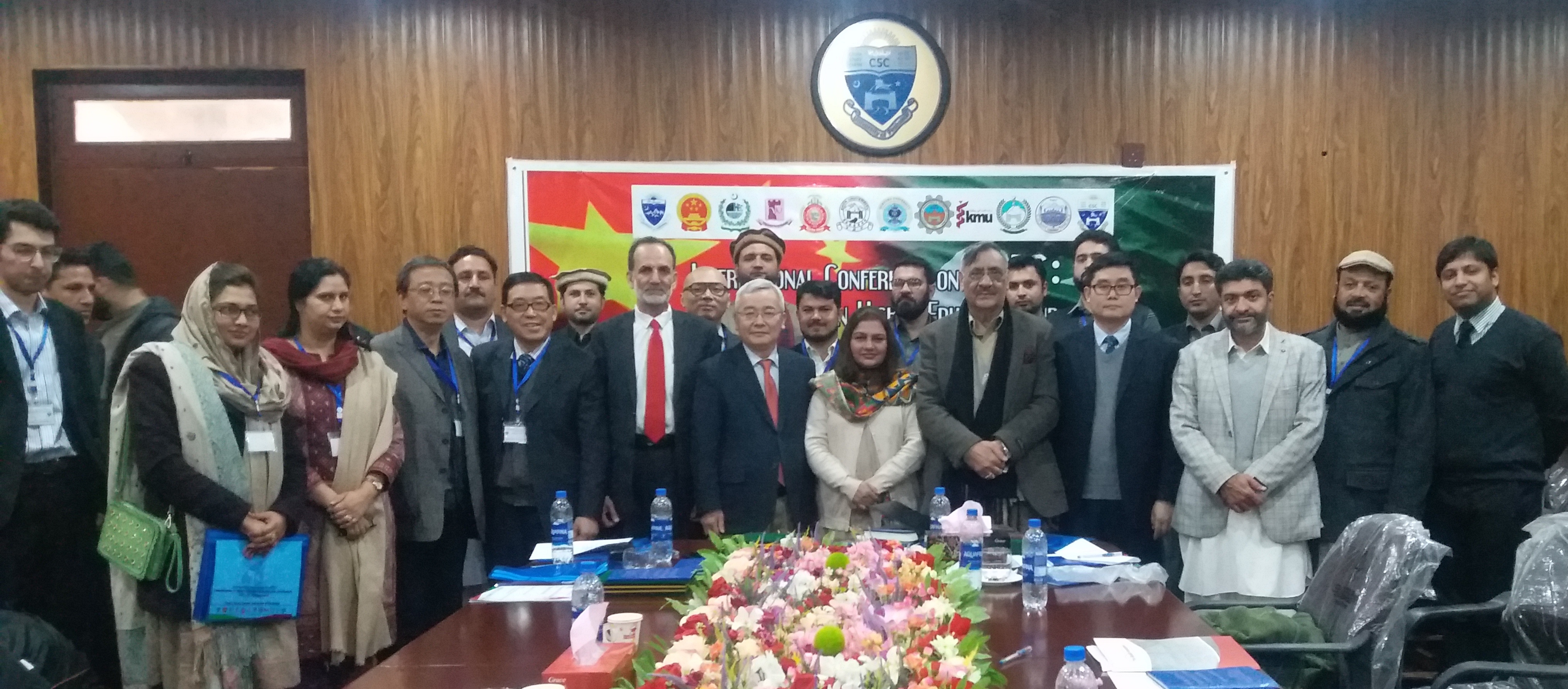 Prof. Dr. Zahid Anwar Director China Study Centre, who was the Chief Organizer of the International Conference in his introduction of the conference said that under the umbrella of CPEC Pakistan and China are cooperating with one another in different fields. In this conference a large number of experts from Pakistan and abroad are participating and hopefully their valuable suggestions and recommendation will help to further strengthen this cooperation between the two countries.
Dr. Safdar Ali Shah, Director General CPEC Cell HEC in his key note address discussed in detail how Pakistani and Chinese Universities are cooperating with one another in Higher Education. He further stated that 21st century is the century of connectivity.
Prof Dr. Zhang Jiadong Director, South Asian studies Fudan University Shanghai in his guest of honour speech said that it his first time to visit Peshawar and praised the natural landscape of Peshawar valley and has stated that there are many opportunities of cooperation between institutions of higher learning of the two countries. The South Asian region is facing many problems and it is high time to collectively resolve these problems amicably.
Prof Dr. Habib Ahmad Vice Chancellor Islamia College University Peshawar said that Universities in Khyber Pakhtunkhwa and Chinese Universities can collaborate in different fields with one another and that his University welcome such collaboration.
Dr. Muhammad Azhar Khan Niazi, President of the Qurtaba Education System said that Qurtaba University is contributing a lot to the development of higher education in Khyber Pakhtunkhwa and welcome cooperation with Chinese Universities in the field of higher education.
Prof Dr. Saqlan Naqvi Vice Chancellor Bacha Khan University Charsadda in his speech said that Bacha Khan University is a newly established University and will fully participate in the collaborative efforts under CPEC. It has done basic homework and welcome collaboration with Chinese Universities.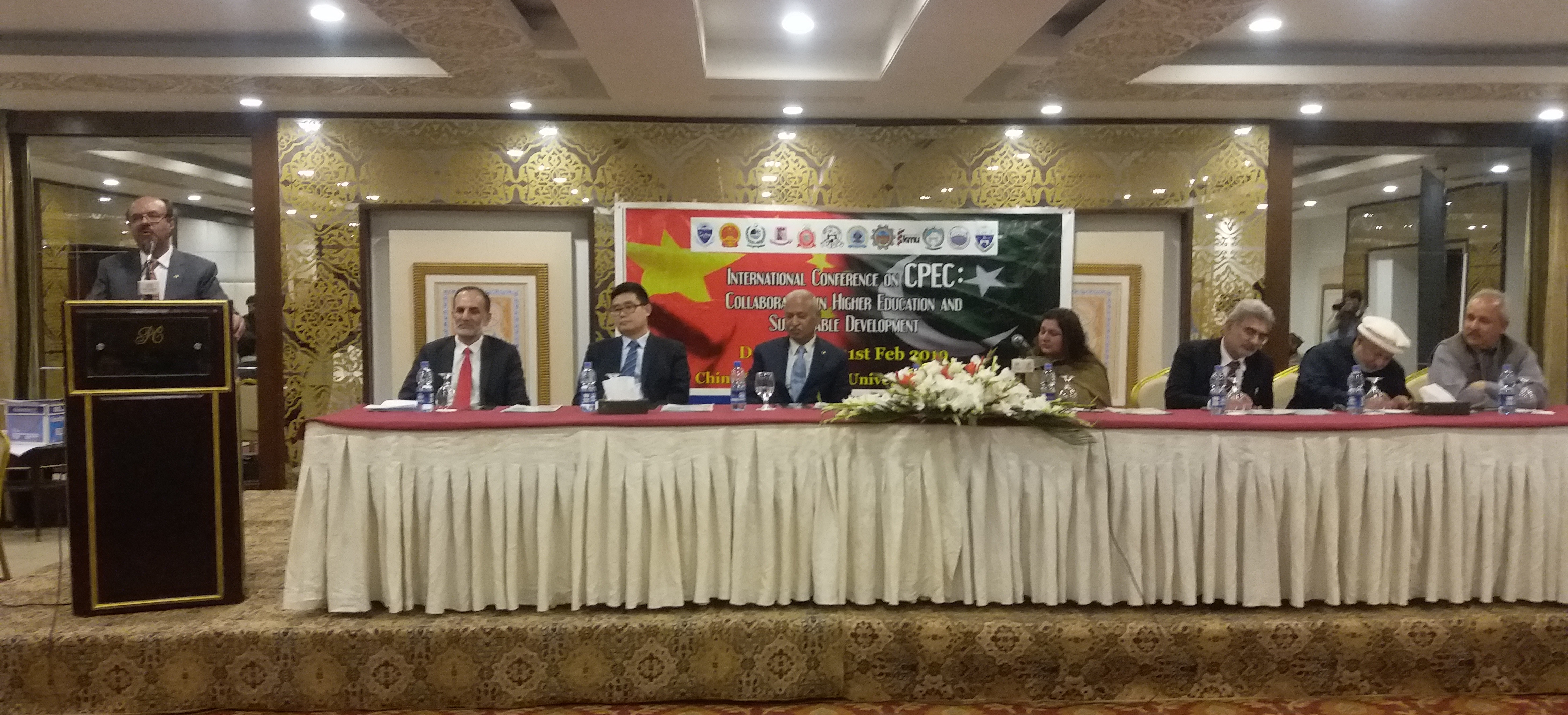 During the discussion Prof Dr Tahir Shah Vice Chancellor FATA University welcomed the organization of the conference and exploring the opportunities of cooperation between China and Pakistani Universities. Prof Dr Muhammad Asif Khan, Vice-Chancellor University of Peshawar, who was the Chief Guest in his address, said that our region is facing many problems particularly related to climate change. In the Himalayan and Karakorum heights global warming is negatively affecting glaciers, the two countries can collaborate bilaterally and through multilateral mechanisms with one another. He appreciated the efforts Prof Dr. Zahid Anwar for organizing the International conference and thanked the partners Universities in this respect. Prof Dr Razia Sultana Vice-Chancellor Shaheed Benazir Women University in her vote of thanks said that this conference is the continuation of the last year International Conference which was organized by her University in collaboration with partner Universities. She said that her University has sent many students to China on scholarship for learning Chinese and has developed linkages with many Universities of China. The inaugural session was followed by a dinner. The remaining sessions were held at China Study Centre and dozens of scholars analyzed different aspects of CPEC and explored areas of cooperation. Dr. Li Tao from Northwest University said that the two countries can collaborate in the field of cultural heritage and archaeology. Prof Dr Ran Wanli of the Northwest University suggested collaboration between his University and Archaeology department of the University of Peshawar. Prof. Dr. Huan Minxing who was Chinese expert on Middle East from Northwest University Xian discussed developments in the Middle East and Chinese policy towards the Middle East and highlighted cultural cooperation between China and the Muslim world. The concluding session was held on 21st February and in the keynote address Prof. Dr. Rong Ying of the CIIS Beijing said that Pakistan and China relations have strengthened with passage of time. Both countries have synergy regarding regional and global issues and has stated that China and Pakistan can play constructive role in the reconciliation efforts in Afghanistan.
In the concluding remarks Prof. Dr. Zahid Anwar thanked the large number of scholars, faculty, journalists, government officials, practitioners, and students for their support and participation in the conference.