UoP' Vice Chancellor confers 323 degrees to session 2016 students on the eve of Convocation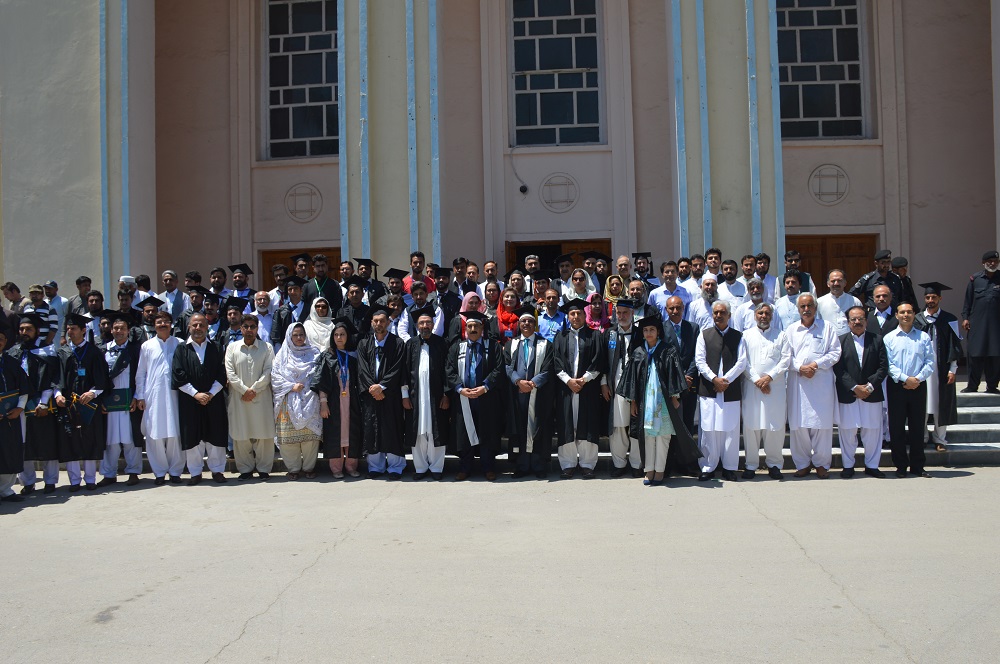 Peshawar: A long-awaited convocation for the session 2016 students was held at the convocation hall, University of Peshawar on friday morning to award 323 degrees to the graduating students. The Vice Chancellor University of Peshawar, Prof. Dr. Muhammad Asif Khan presided over the function in place of chancellor & governor, Khyber Pakhtunkhwa, Shah Farman who regretted participating in the convocation due to pressing engagements in Islamabad.
It was the convocation that would be remembered for maximum number of parents accompanying their graduating students and emotional scenes of gold medalists requesting vice chancellor to honor their parents decorated with gold medals instead of themselves.
A total of 25 gold medalists were awarded at the ceremony along with 12 PhD scholars and 09 M.Phils degrees.
The name of gold-medalists were Mahalqa Rubab (geography), Fatima Khatoon(urdu), Nazish Syed(MBA), Rukhsar majeed(MHRM), Saiha Bano(Electronics), Zarfishan Khan Sikanderi (politicalscience), Iqra Sharif(pharmacy ), Kashmala Khalid Khan(regional studies), Sidra tahir(botany), Zainab Iqbal(chemistry), Sadia Irfan(zoology), Jan Gul(Archaeology), Ibad UrRahman(Pashto), Muhamamd Atif(computer science), Qaiser Khan(statistics), Fida Ullah(Islamiyat), Asif Khan(Socialwork), Asad Yaqoob Mian(physics), Azmat Khan(journalism), Naeem Ullah Baig(anthropology ), Annum Babar(Disaster management ), Saba Gul(commerce), Kinza Nawaz(Environemental sciences), Fatima Mamoor(sociology), Zainab Kanwal atta(economics).
Speaking on the occasion,  Vice Chancellor, University of Peshawar Prof. Dr. Muhammad Asif khan conveyed chancellors' felicitations to the students and parents. Vice Chancellor called upon students to serve society and country at large with dignity and devotion. He reassured   parents that despite financials odds University afforded 100 million rupees worth scholarship for students to continue their education. Addressing media , he said that university has generated 400 million rupees through reforms, austerity and operational -cuts to be self- reliant. "Through HEC, we are able to establish 700 wifi- internet points at the university and 1400 points for CCTV to be a truly ICT smart university", he exclaimed proudly.  
University of Peshawar is expected to hold 2017 and 2018 session convocations during the current year 2019.