UoP signs "LoA" with Nutrition International for capacity building of Supply Chain Managers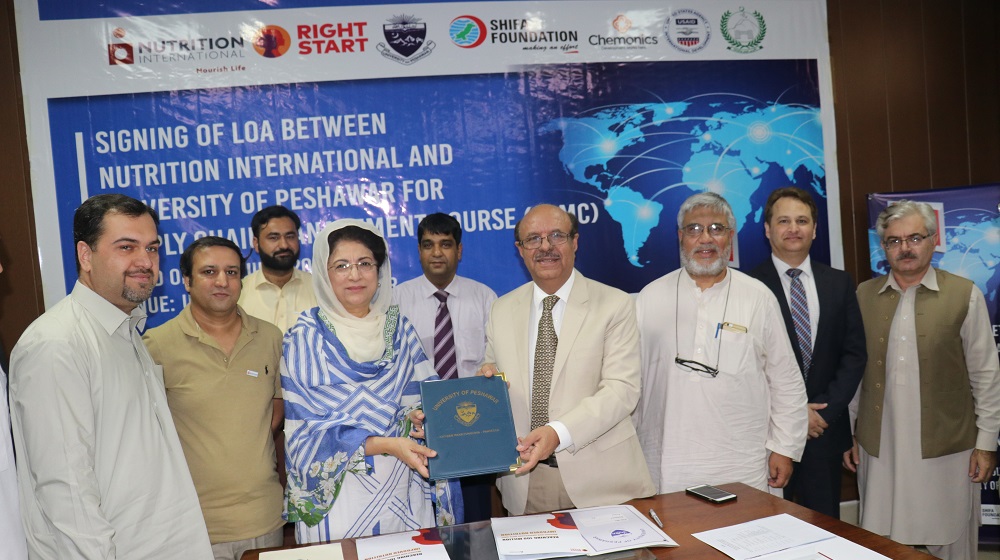 Peshawar: University of Peshawar has signed a letter of agreement on thursday with Nutrition International to enhance the capacity building of health and population welfare workforce in health supply chain management to better facilitate medicines' management, efficacy and storage in the KhyberPakhtunkhwa through expertise of Institute of Management Studies, University of Peshawar.
The Vice Chancellor University of Peshawar, Prof.Dr. Muhammad Asif Khan and Country head from Nutrition International Dr. Shabina Raza signed the agreement . Through this agreement, the master trainers from Institute of Management Studies will train close to 80 health and population welfare officials in a series of five-day workshops. It is pertinent to mention that USAID global health supply chain management ' Chemonics' project carried out master training workshops for the academics of Institute of management studies , last year.
The Vice Chancellor University of Peshawar, Prof.Dr. Muhammad Asif Khan praised the initiative and called upon the relevant departments to garner support for the success of the trainings and its deliverables in the health sector reforms. Dr.Shabina Raza pointed out that that Nutrition International relationship with University of Peshawar will be long term based and its will build its portfolio in Nutrition sector for University of Peshawar in academic and awareness side.
Director Institute of Management Studies, Prof. Muhammad Sajjad pointed out that his institute will provide networking to all relevant stakeholders in supply chain management especially to district health management information system operators. He briefed the participants that institute is mustering academic input to introduce the course to master level students.
Focal person from Institute of Management Studies, Dr.Zia Obaid said that annually worth millions of rupees medicines expire, deteriorate and undelivered due to poor supply chain management systems and poor capacities and currently vaccination issue in the province is a case in point.
Officials from USAid, Health and Shifa International and Planning and Development, University of Peshawar were also present on the occasion.