Seminar on "PAKISTAN AND CHINA RELATIONS" at China Study Centre, UoP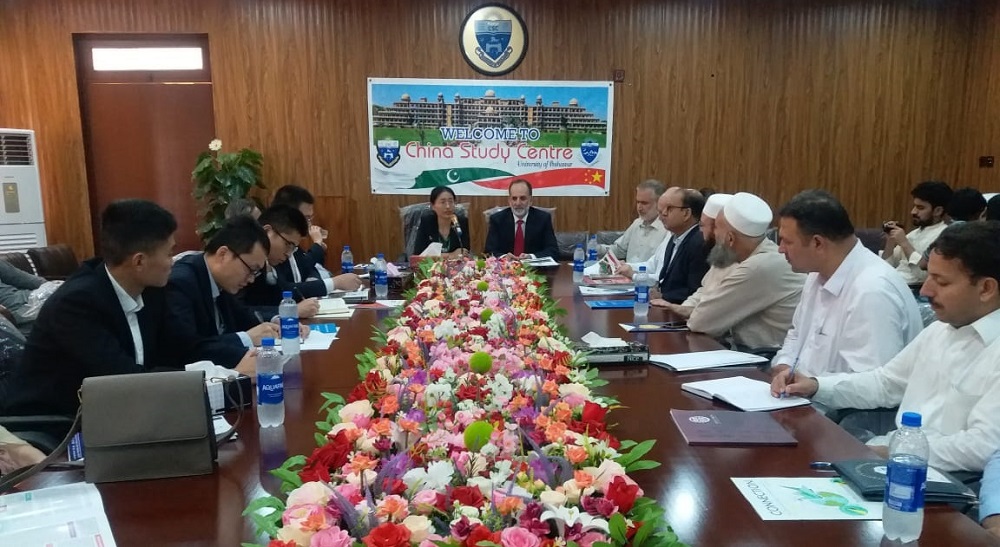 A seminar on, "Pakistan and China Relations" was organized by China Study Centre University of Peshawar on 17th July 2019 at the conference hall of the Centre. A seven members` delegation from China Embassy Islamabad under the leadership of Ms Bao Zhang, Director General Media participated in the seminar. Prof Dr Zahid Anwar, Director China Study Centre, University of Peshawar welcomed the guests and said that it is an honour for China Study Centre that a seven members delegation from China embassy has visited the Centre. In his introductory speech he said that China Study Centre is promoting research on Pakistan and China relations, stimulating the study of Chinese language, history and culture, fostering people to people contacts, making University of Peshawar a reservoir of information on China and highlighting the benefits of China and Pakistan Joint Projects like BRI, CPEC for the two countries and the region. Professor Zahid thanked China Embassy for its financial support, scholarship and equipments which helped a lot in creating a positive image of China among the student community of the University.
Ms Bao Zhang Director General Media, China Embassy Islamabad, who was the chief guest of the event, in her speech said that China and Pakistan relations are higher than mountains, deeper than oceans and sweeter than honey. Pakistan and China are iron brothers. Pakistan and China relations became stronger when President Xi Jinping visited Pakistan in 2015. Pakistan supported China on many global and regional issues and appreciated the completion of early harvest projects of CPEC and optimistically underlined that the second phase of CPEC will boost industrialization in Pakistan. She also highlighted the important role of business community in the economic development of the country. Ms Bao said that China has helped Pakistan to overcome its energy problem and recently it has also helped Pakistan in addressing the problem of forex reserves. Prof Dr Zahid Anwar said that throughout the world the largest number of Pakistani students are now in China getting higher education soon they will return to play their due role in joint projects and added that more than seventy thousand Pakistani citizens have got employment in CPEC projects.
Dr Zhang Jeigen, another senior official of the Embassy in his presentation focused on collaboration in higher education between the Universities of China and Pakistan. He elaborated that a consortium of Pakistan and Chinese Universities was established with headquarters in Fudan University in Shanghai, University of Peshawar is also member of that consortium, its two meetings were held and the third meeting will take place in Pakistan later this year.
Mr. Rahimullah Youasfzai, famous Pakistani journalist also delivered a speech in the seminar. He said that Pakistan and China are two good friends and have supported one another in time of crisis and said that the traders of Khyber Pakhtunkhwa are playing very important role in the trade between Pakistan and China. He also emphasized the significance of the peace process in Afghanistan and the important role of China and Pakistan in that peace process.
Prof Dr Muhammad Abid, Dean Faculty of Numerical Sciences in his speech focused on cooperation between China and Pakistan in the field of Science and technology especially artificial intelligence (AI). A large number of faculty, scholars, students, experts, journalists and diplomats participated in the seminar. In the end Director of China Study Centre thanked the audience especially Principal Home Economics College, Chairman Electronics Department, Chairman URP, Director ORIC, Chairman Economics Department and Dean Faculty of Numerical Sciences for their participation in the seminar despite hot weather and summer vacations. After refreshment the delegation visited Area Study Centre and then left for Peshawar museum.
By
Prof. Dr. Zahid Anwar
Director, China Study Centre
University of Peshawar, PAKISTAN
+92-9216606 , csc@uop.edu.pk