Evidence based policy making is key to sustainable development amid population boom challenges: Participants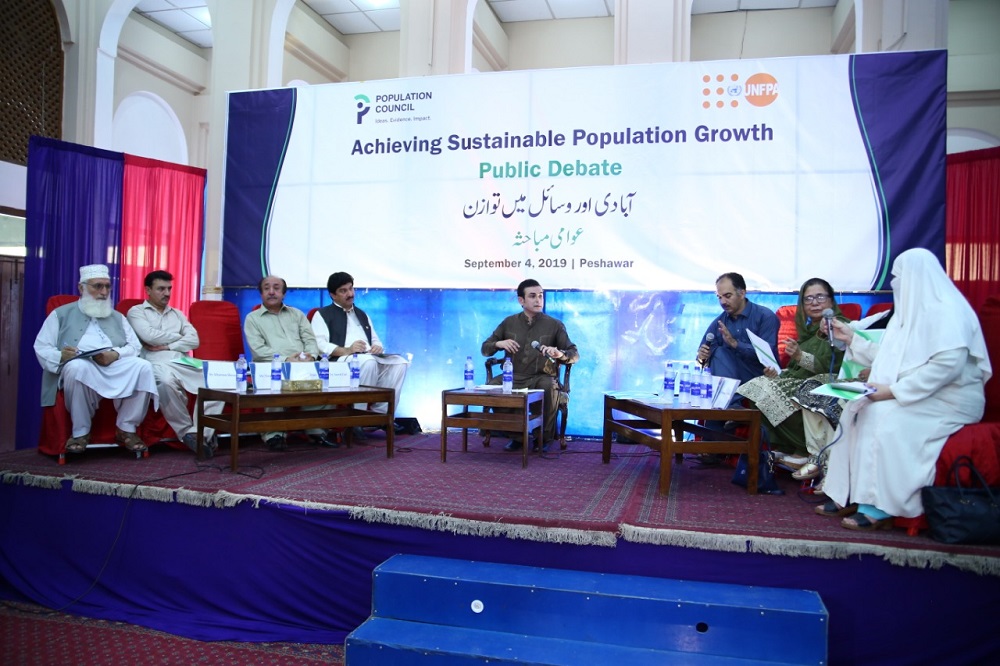 Peshawar: Participants during a first ever annual town hall debate on population and sustainable resources has called upon legislators to make stringent laws for population welfare and sustainable development held under auspices of population council and Peshawar University Teachers Association . The main speaker of the debate deputy speaker Khyber Pakhtunkhwa assembly Mehmud Jan assured the participant that a new law by KP assembly to introduce pre marital counselling will bring new healthy family values .He pointed out that child marriages law after vetting will be brought to assembly for passage to usher a new era of ending injustice to girls. The deputy speaker said that he is doing his utmost to educate his constituency about family reproductive culture.
Samia Ali during her welcome remarks went on to say that population figures in the province reaching seven times higher are alarming since independence . She said that population council is holding a nation wide debate to foster public and key stakeholders standing and viewpoint.
MPA Humera Khatoon said that two kids only jingle through two decades have negatively impacted religious mind people in the province where the children gap jingle would do more good to society as it does not carry negative overtones.
LRH Dr.Rehana Rahim said that tertiary care hospitals are best for counselling on family planning but present government mantra of s making doctors accountable is very inhospitable and discouraging for doctors to carry on family planning service.
Lady Health workers program incharge khurrum Shehzad said that due to multiple fronts if polio, dengue and leishmania , last health workers are no more effective in family planning.Moreover, they due to lesser in number are only covering 60 percent coverage to females in urban areas like Peshawar .
Scholar Rooh Ullah Madni said that population welfare should be left to personal choices but education and sensitisation must be carried out through media and legislation .
Dr.Jamil Chitrali proposed that new law should be proposed to affix compulsory pre marital counselling by Nadra for issuance of identity cards and documents.