UoP multi- departments project showcase its findings through GVV project under logo program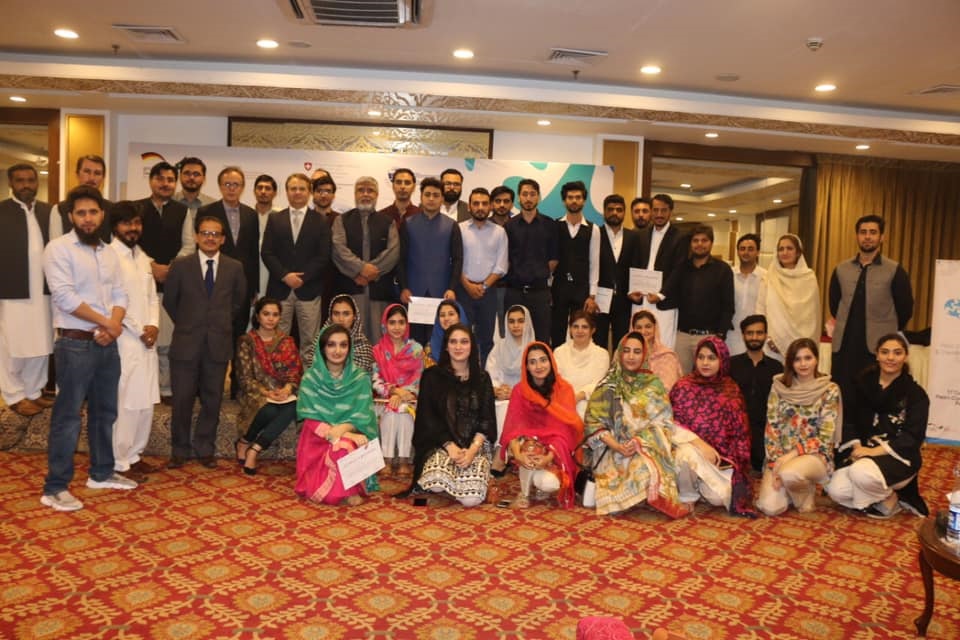 Peshawar:A multi-facet ceremony regarding university of Peshawar two year project "Generating Voices for Voice less" under the umbrella project "logo" co-funded by international partners GIZ and SDC for documenting local government practices and understanding people perception at Kohat, Noshera and Haripur districts was held at a local hotel on Thursday.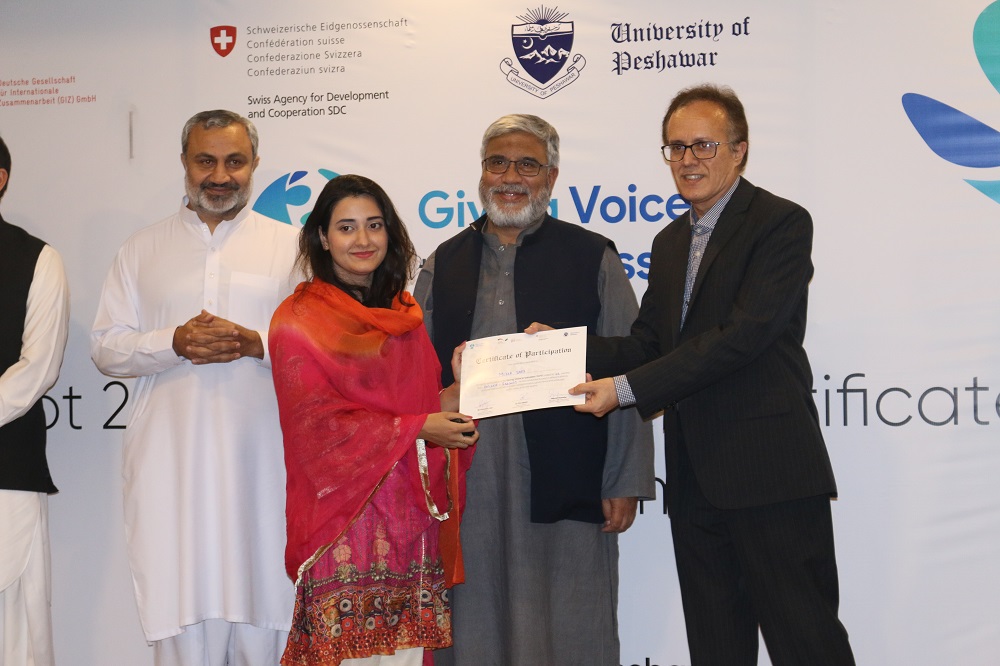 At this ceremony, UoP faculty members from the project side, launched Cell for governance, Public policy research and Social Innovation as an institutional pledge with the donors and with the due acknowledgment of the Vice Chancellor office.
Chief guest Direct General Local government Abid Ullah Kakakhel through a single click, commenced the online version of the launched report "whispers from Mute" that called for local people engagement and understanding of processes at grass roots. The IMS director Prof.Sajjad Ahamd Jan launched on this occasion the website "Citizens Engagement for Development" .
During the occasion, Lahore based theatre companies 'Natak Madari' display a skid underpinning the importance of the RTI law and role of principal information officer in the public sector organization. The societal behavioral change communication theme greatly enthralled the audience.
Later, chief guest local government Director General Abid Ullah Kakakhel along with faculty members distributed some forty certificates among the project participating students from university of Peshawar different departments and Iqra University.
Students during the ceremony thanked the university of Peshawar faculty for affording them the opportunity of journalism trainings, video shooting, audio recording , feature writing and comprehensive capacity building of local government structures and process with a sound knowledge of RTI law.
Speaking on the occasion, the chief guest director General Abid Ullah Kakakhel appreciated the work, dedication and timely research of students and faculty of university of Peshawar for coming up with sound research and social service for the local government system. He appraised the participants that through , the new introduced two tier system at Village and tehsil council meshing check and balance at both ends via LG act 2019 will greatly boost the local governance. He assured that newly merged districts of erst-while FATA will see the fresh breath of local government system soon. He acknowledged that this is high time for government to take on board universities and academia research for betterment of local government system in the country,
Early, presenting the goals and target achieves the project lead Dr.Faiz Ullah Jan Chairman Department of Journalism; University of Peshawar told the participants that students and focal persons during two year project visited 230 village councils and Union Councils for survey, interviews through feedback and updating information. He pointed out that 300 reports, 42 video reports, 52 audio reports and fifteen features publication the mainstream newspapers from students' initiatives.
Project coordinator from Institute of Management Studies Dr.Zia Obaid said that project has given a unique example of synergy of four departments, Journalism, management studies, gender studies, and Law along with Iqra University for unique social research and expertise. He promised that launched cell for governance, public policy research and social innovation will give impetus to multi-disciplinary research approach.