Seminar at UoP with the grand theme of "Friends of Silk Road" with key stakeholders on moot is organised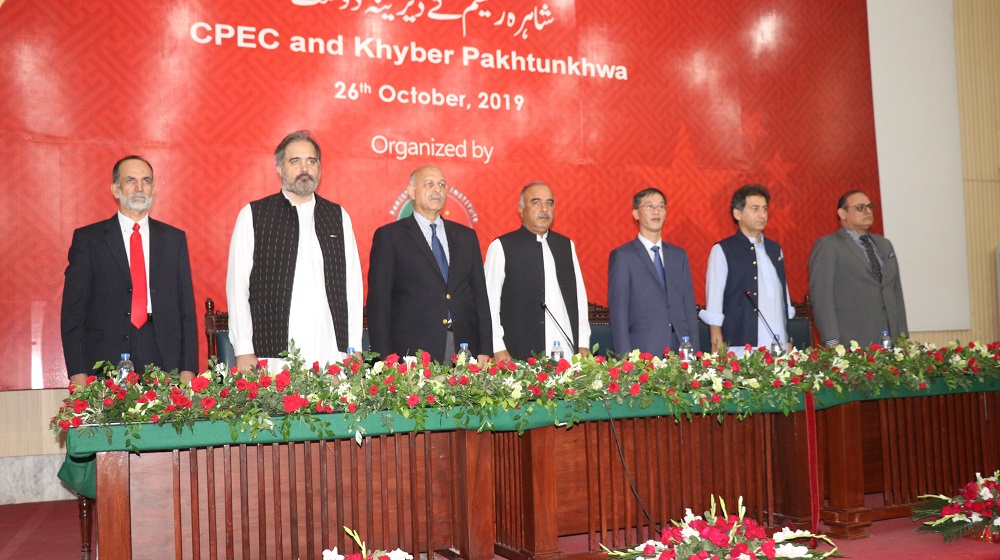 Peshawar: A crispy but vital seminar on CPEC was held as Rashid Ahmed TahirKheli auditorium located at the National Center of Excellence in Geology, University of Peshawar with the grand theme of "Friends of Silk Road" with key stakeholders on moot including Pakistan China Institute and China Study Centre, University of Peshawar as joint partners.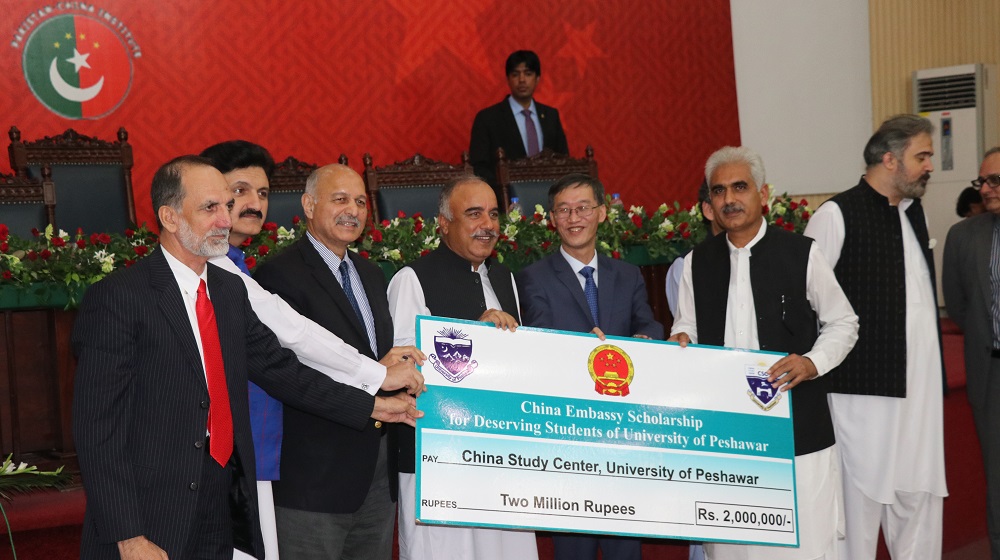 The worthy Chancellor /Governor KhyberPakhtunkhawa Mr.Shah Farman praised the event and called upon the higher education institutions to raise to the occasion to meet the global demands of the competitive markets in the reign of minerals, agriculture and high-tech fields. He stressed that his priority is to take universities to serve students, society and industry needs through the fast track procedures and no relaxation will be given to institution lagging behind this venture. He stressed the Chinese ambassador to give boost to value addition of local mineral industries through establishment of manufacturing and marketing labs at the raw material sites.
Chinese ambassador in Pakistan, his excellency Mr.Yao Jing has underscored the need of value addition of the joint mineral industry with the additional assistance to manufacturing plants in the country. He stated that 58 schools in erstwhile FATA,50 vocational centers in the country and 30 hospitals in the KP province are approved by Chinese government. He pledged that the area encompassing northern areas is the area where our forefathers lived and belonged and hence it is our top priority to develop these areas . He underscored the need of peace and stability in the region so that Chinese firms execute dream project of linking Quetta, Chaman to Gwadar and Peshawar to Kabul and onwards to Kazakistan through railway tracks. He called upon Higher Education Institutions to come up with proposals to establish the ten agriculture labs in the country through Planning Commission and PARC.
Chairman Pakistan China Institute Senator Mushahid Hussain Sayed congratulated senior journalist Amjad Aziz Malik for China Window Centre establishment and Taking China-Pakistan friendship and collaboration through state of the art, culture representative centre at Peshawar . He admired the continuous Chinese government support of Pakistan in FATF, Kashmir cause and UN security council and pledged the same from people of Pakistan on Tibet , Taiwan and Global Chinese fronts. He appraised the participants that upcoming joint cooperation meeting between Pakistan and China will usher a new phase of Cooperation and development between the two countries. He pointed out that 70,000 jobs are created and 10,000 megawatts are generated through CPEC projects.
Hassan Daud Butt, Chairman Board of Investment KP, said that a new timeline of exponential growth will be witnessed through next year after completion of Havelian,Thakot and Raikot highway and with 24 hours opening of KKH. He said that we need poster boys and soft images for promoting Chinese tourism in the northern areas of Pakistan including KP.
Senior minister Muhammad Atif Khan said that 20 billion rupees are being invested to promote the tourism industry in the province but Private sector has to come in building infrastructure. With integrated approach of all the key stakeholders , including local communities, Home department and academia, businessmen one can develop the tourism in the country , he stressed. He called upon the Chinese ambassador to expedite the leading tourism business enterprises to turn to Pakistan for religious and cultural tourism.
The Chairman Parliamentary committee on CPEC, MNA Arbab Sher Ali stressed upon students to vie for upcoming scholarships as 28,000 students are already studying in China.
Later, Chinese ambassador handover the signature postcard worth two million rupees for students scholarships to UoP students that is already announced and notified for the students after a thorough scrutiny process, to the acting Vice Chancellor University of Peshawar Prof.Dr. Johar Ali, on this occasion.
Later in the one to one meeting with acting vice chancellor university of Peshawar , Chinese ambassador guaranteed 30 scholarship for University of Peshawar faculty after thorough process of academic credentials and scrutiny.