UoP hosts first-ever fundraising event through UoPAA and Fundraising Office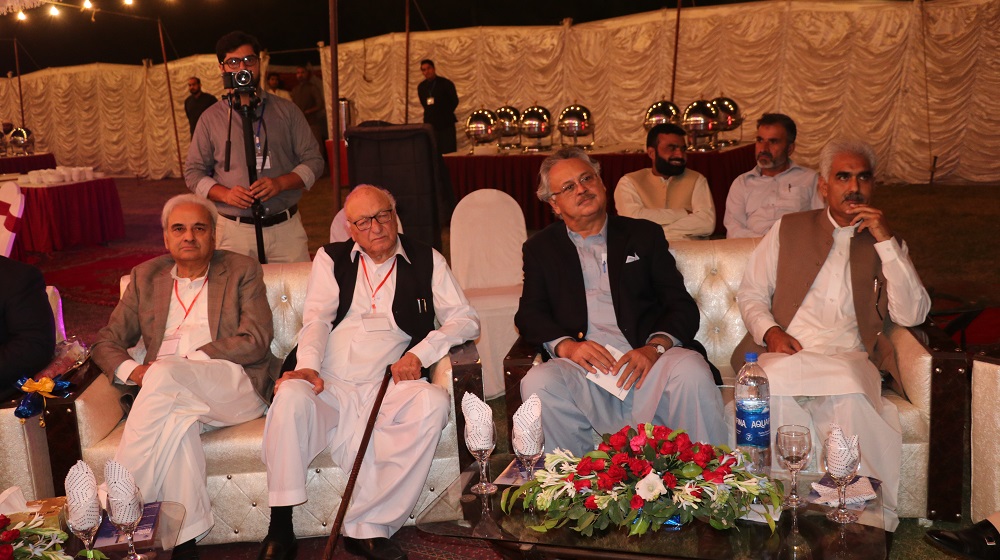 Peshawar: A rare gathering of philanthropists , academics, alumnus, businesspersons, gathered to formally acknowledge and contribute in the first ever fundraising event at the administrative lawn of University of Peshawar , that raise five million rupees for students scholarships and newly established endowment fund.
Worthy Chancellor Public Sector Universities and Governor Khyber Pakhtunkhwa Shah Farman graced the occasion as chief guest for the second time in the day after attending national seminar on CPEC. The notable personalities included former interim prime minister & Chief Justice Nasir ul Mulk, senior advocate Latif Afridi, UoP's alumni association President Amjad Arbab,business luminaries Mohsin Aziz and Sarwar Momand and human rights activists like Rakshanda Naz, Shabina Ayaz and Saima Munir , MNAs, Arbab Sher Ali and Muhamamd Ali , MPAs Pir Fida, Aisha Bano and beside vice Chancellors from Fata, Peshawar and agriculture universities.
According to director fundraising office , ms. Gulalai, some two million rupees were gathered by selling tickets to 200 participants, while Aziz industries contributed handsomely in the scholarship and endowment fund. Kohat cement factory and Alwi awards also pledged in written to offer annual scholarships to deserving students of university. Meanwhile, a number of persons made cash donations. The dinner of the event was sponsored by USIP.
In his welcome address, acting Vice Chancellor University of Peshawar, Prof.Johar Ali stressed on governor office to hear the agonies, cries and demands of the university. He appreciated the university alumni association efforts in staging and networking for the event, to make it a start up success. He called upon alumnus to reconnect with universities like the western universities where university like Oxford piled up 7 billion pounds in alumnus annual contributions. Dr. Johar narrated a long list of donors and subscribers, who were mainly community leaders from all nook and corners of Northern India, for Islamia College establishment to make a point that educational endeavors needs contributions and societal contribution.
Worthy Chancellor Public Sector Universities and Governor Khyber Pakhtunkhwa Mr. Shah Farman maintained that he will be ruthless on any university violating the meritocracy at the educational institutions. He appreciated the efforts put in by the University of Peshawar for fund raising and networking as this is the current government policy to pursue austerity and be a cost effective at most . He pledged that Governor Office will remain open for all needy and deserving students in fees remissions and scholarships. He maintained that minerals rich country like our needs geological academics to share its latest research but there is a big disconnection between the academia and industry. He stressed that being alumnus of Islamia College and University of Peshawar, in past grooming students with educational and character building was key which is now, amiss and is deplorable. He pointed out that after merger of newly merged districts, he will solely focuses on seeing the universities performance, meticulously .Later, governor donated five lac rupees for the endowment fund, of the university.
Fasih Zaka, renowned writer while speaking called upon the luminaries that education sector must imbibe latest pedagogical features to strengthen the universities output. He said the biggest challenges Universities facing is radicalization, that can be overcome through open minded teachers. "Universities must not expect blanket donations and must go for proposals rich and cost effective donations, he remarked". He mentioned that universities need to bring more alumni on board in taking university to new avenues of progress and development projects.
UoPAA president, Amjad Arbab said that reconnecting and bringing back alumni is key to University of Peshawar future forward looking approach to be sustainable in scholarships and endowment fund. He pledged that after the registration of UoPAA and establishment of its office, he will hand over the responsibilities to upcoming elected cabinet.
Earlier, a documentary was showcased with a view to bring up the memoirs and teaching practices of the university in the past .Further , a classical Kathak dance performed by the Asfandyar Khattak and university anthem sung in Pashto by faculty member Bakht Zaman Yousafzai.