Three day Conference on Contextualizing Criminology concludes at UoP

Peshawar: A three day national conference entitled as contextualizing challenges in criminology and criminal justice system concluded at Sir Sahibzada Abdul Qayum conference Hall at University of Peshawar with a vow to bring in parliamentarians and security institutions' officials in the coming third national conference at the same venue next year. Around fifty research papers were submitted in writing while thirty were presented in the proceedings of the conference.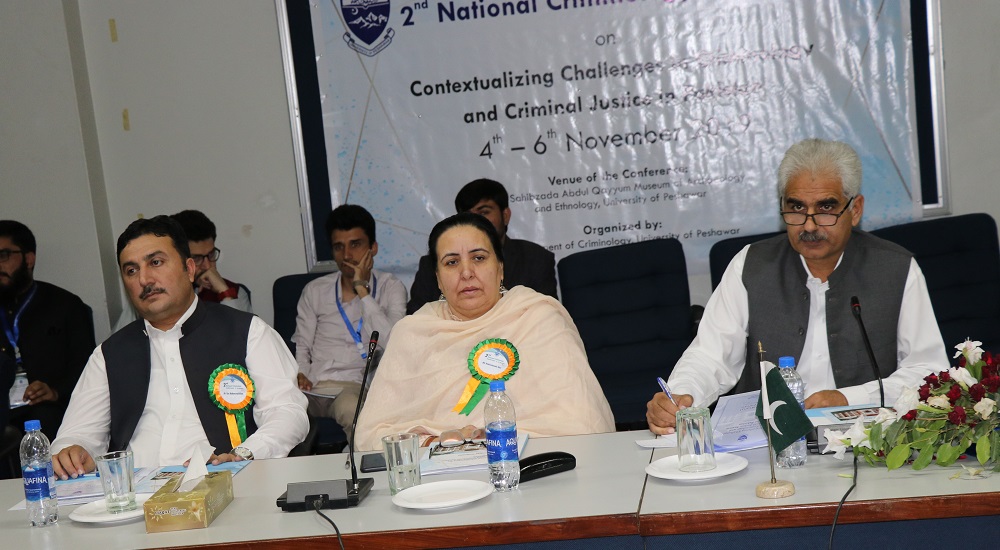 Wrapping up the conference, the chief organizer & chairman criminology department, University of Peshawar while taking the feedback of the speakers called upon the security and judicial institutions to contribute to the progress of criminology and forensic sciences as a discipline through open sharing of information, research, findings, and provisions of jobs for criminology and forensic studies graduates. " "Through the entire course of the conference not a single paper was presented by the Law enforcement agencies officials" Prof.Basharat Hussain lamented, the fact at the concluding session. He called upon the participants to make promotion of criminology as cause and to make it sustainable venture in the making of peaceful and stable society. He promised the participants that next time, public representatives, retired judges and legal experts will be brought to conference in large numbers with addition to launching of special journal issue on conference proceedings.
Chief guest Pro Vice Chancellor, Prof.Dr. Johar Ali has called upon the lEAs to condescend enough to take advantage of societal researches that has lying waiting for utilization by concerned quarters at the university. He maintained that through seminars and conferences progressive nations spearhead their national narratives of development and peace. He underscored the need of carrying forward of positive image of KhyberPakhtunkhawa and academics to other provinces as vital and enduring for future collaborations through conference initiatives .
Ombudsperson for stopping harassment at work places, Rakhshanda Naz told the participants that time have come to frame laws under the ambit of international human rights laws and societal needs. She praised the contribution of parliamentarians to frame women friendly laws since turn of 21st century in the country. Though she lamented the fact that power, patriarchy and class system still hamper and obstruct the justice in the country.
Deputy Chief of child welfare and protection commission Muhammad Ijaz Khan told that twelve child protection units and three child rights protection courts in the province are a testimony that state is serious to the plight of almost half of the country population. He apprised the participants that district and session court judges have been empowered to take action against the perpetrators of the corporal punishment against children. He called upon the academia and media fraternity to raise awareness about the child rights and laws in vogue.