Webinar on Pakistan-China Cooperation Against Covid-19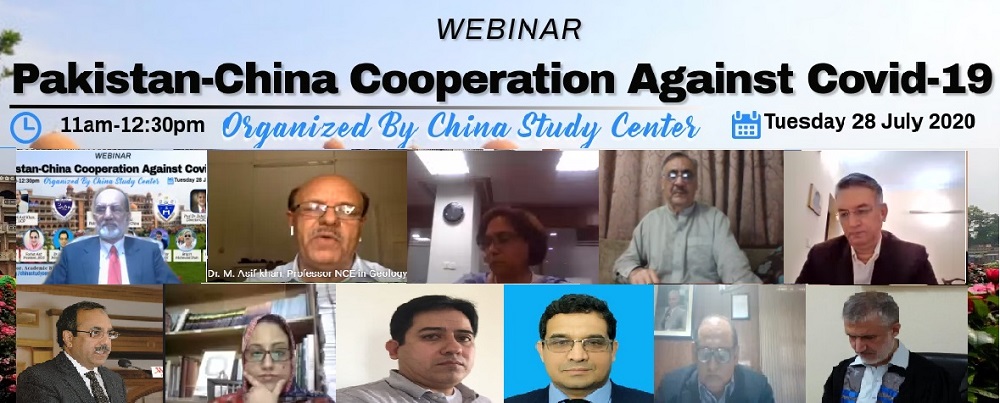 A webinar on "Pakistan-China cooperation Against COVID-19" was organized by China Study Center, University of Peshawar on 28th July 2020 at 11am to 12.30 pm via Google Meet. Prof. Dr. Zahid Anwar, Director China Study Center, University of Peshawar in his introduction to the webinar said that Pakistan and china cooperated with one another on many global and regional issues. The two countries have developed comprehensive and productive relationship in defense field and rewarding and enriching relationship in the economic field. With the outbreak of COVID Pakistan and China joined hands against this disease which wreak havoc in the world. When the COVID threatened public health the two countries wholeheartedly supported each other. Today this webinar highlighted the cooperation between the two countries to strengthen public health security. In the webinar experts today explored different aspects of cooperation against COVID.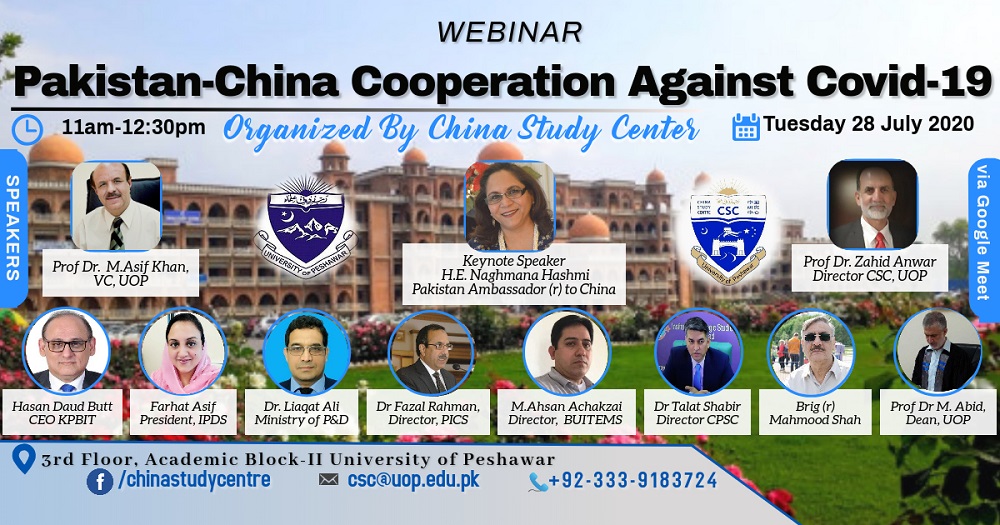 The Vice-Chancellor Prof. Dr. Muhammad Asif in his welcome address said that all the sectors of society have been affected by CVID-19 especially education. Higher education is one the most affected sector by this pandemic not only in Pakistan but in the rest of the world too. China was the first nation to face the pandemic of COVID-19. He welcomed all the distinguished speakers.
Pakistan Ambassador ® to China H.E. Naghmana A. Hashmiin her keynote address said the furnace of COVID-19 further strengthened Pakistan and China friendship. This all weather friendship has come out stronger and more shining during the COVID pandemic. China has successfully controlled the pandemic. It got a unique experience. She said that COVID-19 was a test of China leadership, governance and service to people. China leadership, governance and service level highlighted the success of Chinese system and experience. China succeeded to address the challenge. China gave a wonderful road map with a clear vision against COVID-19. She discussed in detail how China supported Pakistan against COVID. She said that the visit of the president of Pakistan to China during COVID was big public diplomacy success.She explained why Pakistani students were told to remain in China when the pandemic broke out there. It was due to better coordination between Pakistan and China that COVID-19 did not transfer to Pakistan from China.
Brig (r) Mehmood Shah in his speech on COVID-19 said that the disease spread in Pakistan rapidly and due to weak economy it was difficult for Pakistan to tackle the issue effectively nevertheless it contained the disease and in this connection Chinese experience against COVID-19 helped a lot. He particularly appreciated the role of doctors, paramedics, police and armed forces.
Dr Talat Shabbir, Director China Pakistan Study Centre, ISSI talked about the pandemic in detail and said that China play a major role in this pandemic around the world and added that this disease is a common challenge to the world. He discussed in detail the response of China to COVID.
Dr. Fazal Rahman Director, PICS (Pakistan Institute of China Studies, university of Sarghoda) talked about Pakistan China Cooperation against COVID-19. Pakistan and China cooperated against COVID a lot. Chinese material support helped a lot, keeping in view Pakistan public health infrastructure, technical assistance from China helped also, their medical teams visited and shared views and experience with Pakistani counterparts. Both countries are jointly trying to develop a vaccine. Economic cooperation is another important aspect of cooperation against COVID-19.
Farhat Asif, President, Institute of Peace and Diplomatic Studies, Islamabad said that COVID knows no political borders, it wrecked havoc globally. COVID requires collective response at Government and people levels. We should learn from China; how its social and business hubs successfully faced the challenge of COVID. She discussed in detail the impact of COVID on BRI and CPEC projects.
Hasan Daud Butt CEO, KPBIT said that China in the era of COVID reciprocated a drop of water with a whole spring. Under BRI the world is coming closer for better cooperation. Pakistan and China are cooperating for shared destiny. Ambassador Naghmana Hashima has played very important role and coordinated Chinese assistant to Pakistan. The threat is not over yet. Hasan Daud Butt in his speech focused on "new normal" due to the pandemic. He invited Chinese investors to invest in Khyber Pakhtunkhwa and get benefit from the conducive investment environment. He thanked the China Embassy for its generous contributions to Pakistan against COVID-19. He also discussed progress regarding CPEC projects in Khyber Paktunkhwa in the pandemic especially Rashakai Special Economic Zone.
Mr Ahsan Achakzai, Director CPEC Center, BUITEMS in his address talked in detail how global economy and Pakistan`s economy is affected by COVID-19. Being economist he highlighted the economic aspect of COVID and added that there is need to focus on how COVID is effecting our young people especially students and in this connection he turned the attention to Chinese support in this field.
Dr Liaqat Ali Shah in the end talked about the Pakistan and China solidarity against COVID-19. He said that even now aid from China is coming to Pakistan whether it is ventilators or other PPE. It is very important that despite COVID pandemic CPEC projects are going on successfully. He highlighted that we should study the opportunities and challenges posed by the COVID-19 pandemic. We should prepare ourselves for the post-pandemic opportunities.
Prof. Dr. Mohammad Abid, Dean, University of Peshawar summarized the speeches of speakers and thanked all of them, for their participation, on behalf of the University of Peshawar. All the speakers appreciated the wholehearted support of China to Pakistan against COVID-19. Pakistan also tried its best to help China when the pandemic spread in China. A large number of students, faculty experts and diplomats attended the webinar.
By
Prof Dr Zahid Anwar,
Director, China Study Center,
University of Peshawar
zahid_anwar@uop.edu.pk
+92-3339183724