Rule of Law Necessary for Peace and Progress: Speakers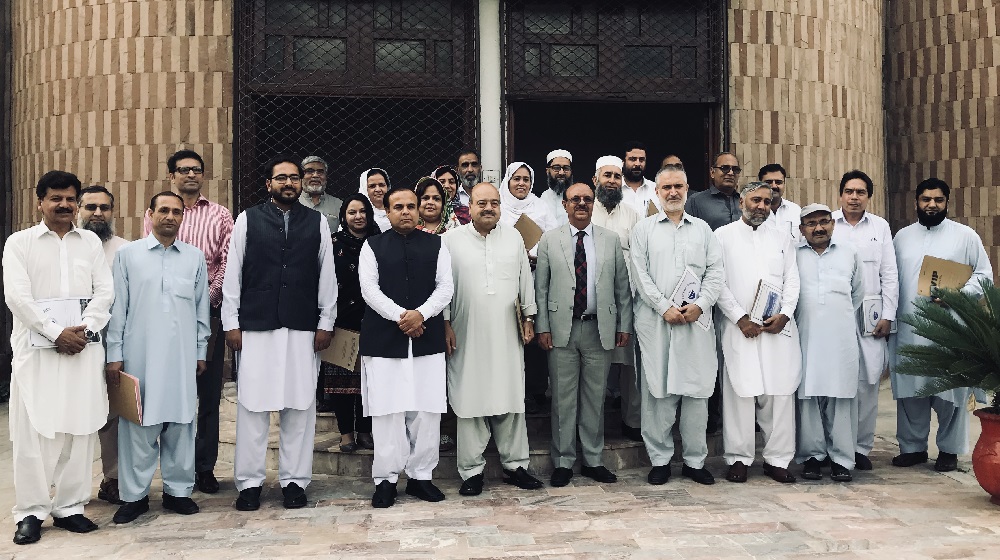 Peshawar: Rule of law is a long term goal and a continuous process. It refers to the society where the law applies on everyone, equally and indiscriminately; everyone is subject to law regardless of socio-political background and economic status; and has equal access to justice. Not only the law enforcement agencies but every single individual is responsible to uphold rule of law besides adhering to rule of law. Rule of law in the society nourishes social peace and progress whereas deviation from constitution and rule of law leads to disintegration and weakens the social fabric.
These notions were expressed by Mr. Mirvais Niaz, Director FIA, Khyber Pakhtunkhwa during the ninth round of Ulasi Taroon, Youth Capacity Building Workshops organized by the Center for Research and Security Studies (CRSS) at the Department of Social Work, University of Peshawar from September 13-14, 2018. Barrister Ali Gohar; members of the faculty of social work department; and team CRSS also spoke during the workshop.
Underscoring the importance of democratic dialogue, Mr. Mirvais said that the citizens should collectively voice and articulate their concerns and mobilize pressure - on those at helm - for the resolution of their issues but through a democratic discourse instead of flouting the law and resorting to violent means to communicate their demands.
"Ideally, police should be an agency oriented for public service rather than to be used as a force for furthering political objectives. Equipping our police with the modern policing tools can enhance its capacity to better implement rule of law", he concluded.
Barrister Ali Gohar said that the religious leaders should be aware of the religious and cultural sensitivities in the society given the huge responsibility on them to achieve harmony and cohesion. They must realize the importance of their role in promoting tolerance, respect and harmony as all religions promote peace and humanity. Equal onus is on the individuals to disseminate the virtues of tolerance, respect and patience within their respective social and professional spheres.
The social media may have been used negatively at some occasions but it's worth tapping into its infinite potential given the multitude of its positive uses for propagating the positive messages, he concluded.
Prof. Rashid Khan, Chairman, Department of Social Work, University of Peshawar, said that the government must have a plan in place to give opportunities of participation to youth and help them channelize their talents and energies into the national socio-political life. It must also provide them the much needed avenues for effective participation in the democratic processes and play their part in the development of the country. Youth should also realize that their role is key to social cohesion and peace.
"No country can progress with half of its population not participating in the development of the country, thus we must empower our women and provide them opportunities for contribution in the socio-political and economic development of the country", he concluded.
Dr. Muhammad Ibrar, Assistant Professor, Department of Social Work, University of Peshawar said that Ulasi Taroon is a timely initiative to create awareness about the constitutional values fundamental to peaceful coexistence. Social cohesion cannot be ensure without nurturing cohesive thoughts and attitudes. It's a learning process and environments conducive to cohesion can drastically change the way we think and view diversity in the society.