UoP's CSC seminar explores China's impact on reconciliation and peace moves in Afghanistan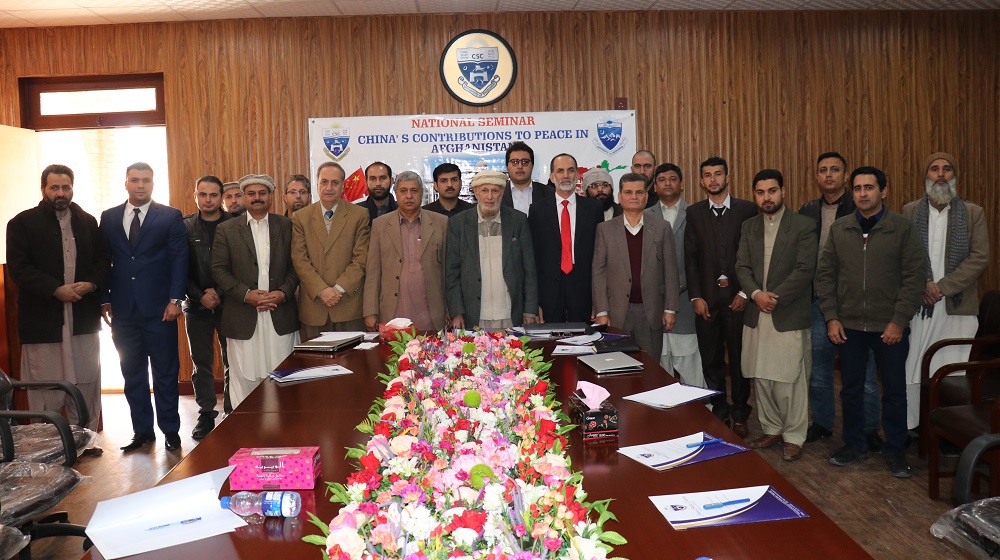 Peshawar: China Study Centre, University of Peshawar has organized a seminar on "China`s Contributions to Peace in Afghanistan" on 17th January 2019 at the conference hall of China Study Centre, University of Peshawar. Many field experts on the theme discussed different aspects of the issue. Prof. Dr. Zahid Anwar Director China Study Centre discussed the aims and objectives of the seminar and explored the issue in historical perspective including the current reconciliation efforts.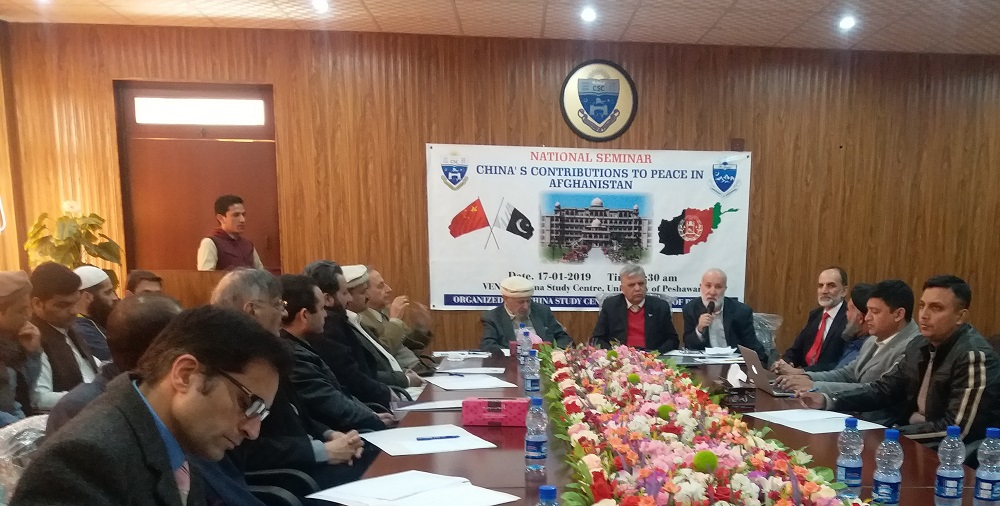 Prof. Dr. Bashir Ahmed, Dean Faculty of life and Environmental Sciences welcomed the distinguished guests.
Ambassador rtd. Rostam Shah Mohmand former Ambassador of Pakistan to Afghanistan in his key note address comprehensively analyzed the regional situation and explained that in the context of BRI and CPEC China can play a very constructive role in the regional peace and prosperity.
Prof. Dr. Fakhar-ul-Islam Director Pakistan Study Centre University of Peshawar, highlighted the role of China in restoring peace in the region. Prof. Dr. Fazal Rahim Marwat former Vice-Chancellor Bacha Khan University Charsadda spoke on Afghanistan and China Relations in detail.
Rahimullah Yousafzai renowned journalist highlighted the political development in the region after the withdrawal of NATO troops and the political reconciliation in Afghanistan. Brig. ® Mahmood Shah in his presentation objectively analyzed the regional situation, BRI, CPEC and underlined the constructive role of China in restoration of peace in Afghanistan.
Prof. Dr. Hussain Shaheed Soharwardy in his presentation pointed out that important developments are taking place in the region especially Afghanistan and underpinned the positive role of China in the reconciliation efforts in Afghanistan.
Zamir Awan who came from China Study Centre NUST, Islamabad described in detail how China became an economic power and how it is helping in regional peace and prosperity through BRI and CPEC. He further explained that China is strengthening friendship in the region and is trying to resolve all its issue through peaceful means.
He said that China is playing very constructive role in restoring peace in Afghanistan. In the end Prof. Dr. Zahid Anwar thanked all participants which included a large number of faculty, students journalists, and academicians, diplomats, journalists, ministry of defense officials and practitioners for their participation in the national seminar.