Pakistan-China Cooperation on Contemporary Developments in Indian Occupied Kashmir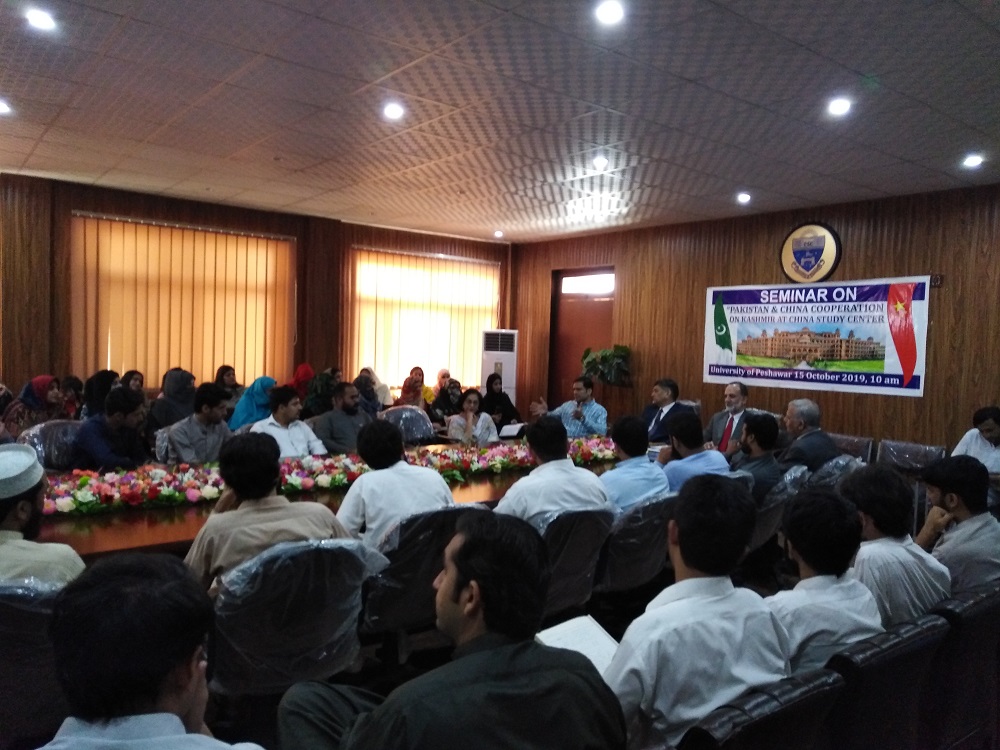 China Study Centre, University of Peshawar has organized a seminar on "Pakistan- China Cooperation on Contemporary Developments in the Indian Occupied Kashmir" on 15th October 2019 at the conference hall of the Centre. Many scholars from different cities of Pakistan delivered their presentations. Prof Dr Zahid Anwar, Director, China Study Centre, University of Peshawar through light on the goals of the Centre and explained the objectives of the seminar i.e., to objectively analyze the approaches of the two countries in comparative perspective to the issue of Kashmir particularly the recent developments in the Indian occupied Kashmir.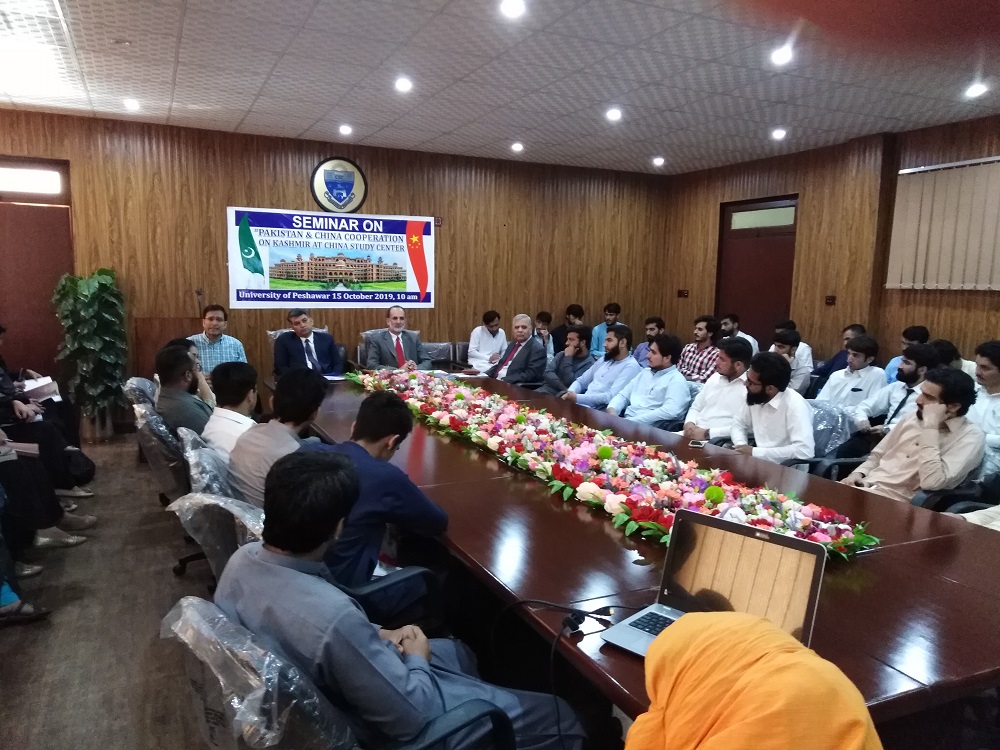 Dr Talat Shabir Director, China Pakistan Study Centre, Institute of Strategic Studies Islamabad highlighted the risks of unilateral change and revocation of article 370 by the Indian Government. He talked about the CPEC projects in Azad Jammu and Kashmir which are going on for the social-economic development of the area. Furthermore he underlined that war will negatively affect the developmental efforts in the region. Prof Zamir Awan from NUST Islamabad said that there is need to understand China that will help to understand Chinese policies in the region.He told the audience that Pakistan is facing hybrid /5th generation war and there is need to use social media more effectively. Pakistan and China are supporting each other on different issues including that of Kashmir. Prof Dr Fakher ul Islam, Director Pakistan Study Centre said that China and India have border disputes even before 1947 and in this connection he referred to MaCmohan line and continuation of rivalry, after the independence on Aksai Chin and 1962 war between China and India. Prof Dr Husain Shaheed Suharwardy, Director Institute of Peace and Conflict Studies in his speech said that revocation of article 370 made India Occupier of Jammu and Kashmir in the real sense. India is a big market. There is need to look at things in broader spectrum and shun narrow approach. China wants peace in the region which will enable it to successfully pursue its goal of regional economic integration.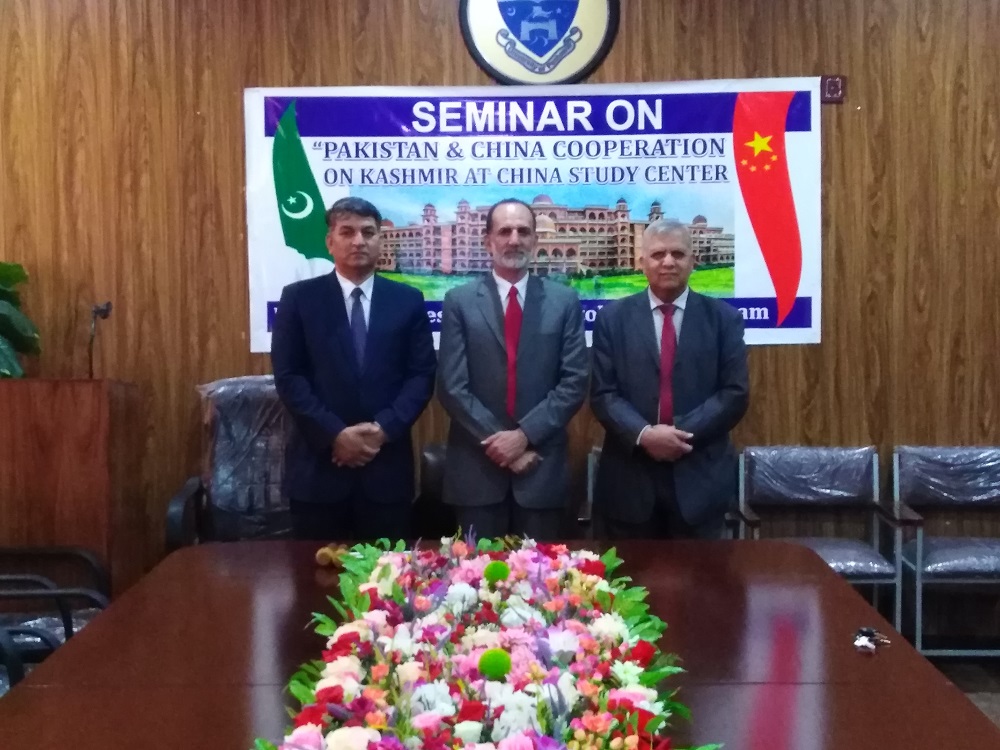 Prof Dr Zahid Director China Study Centre Peshawar University in his presentation said that both China and Pakistan opposed Indian unilateral action on 5th August 2019 regarding Jammu and Kashmir.This unilateral change of Status quo is unacceptable to both China and Pakistan. He said that China and India have embarked on a voyage of exploring commonalities nevertheless both have different approaches to the issue of Jammu and Kashmir in this connection he cited summit meetings in Wuhan ( Hubei province of China) in 2018 and in Mamallapuram /Mahbalipuram (Tamil Nadu, India) in October 2019. Chinese experts called Modi`s Government action regarding Kashmir a big mistake. He further explained that India is turning attention of its public from real issues like economic decline and Hindu extremism by depicting Pakistan as threat to Indian interests. Muslims of India are living in constant state of fear and persecution under Modi`s Government. Shuddhi and Sangathan movements are going on in the real sense under the auspices of BJP Government. Cooperation between China and Pakistan will help to ease the problems of the people of Kashmir and will ultimately pave the way for peaceful resolution of the Kashmir issue. Speeches were followed by many questions and answers.A large numbers of experts, scholars, journalists, diplomats and students participated in the seminar.
By
Prof Dr Zahid Anwar
Department of Political Science
University of Peshawar
zahid_anwar@uop.edu.pk
091-5852247